Recipes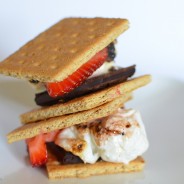 Smore is a traditional nighttime campfire treat made with roasted marshmallow and a layer of chocolate sandwiched between two pieces of graham crackers. If you're camping, and you've got a fire going, make these classic treat. My boys love Smore's and making them is their favorite part of camping. We added strawberries and bananas to the classic recipe this trip, it was delicious. Strawberry Banana Smores came out really good. Next on our list is Nutella banana smores, will let you know how it turns out. Traditionally...
read more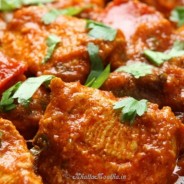 Karahi chicken is a comforting curry/stew that originated in northern India . It is traditionally made with fresh tomatoes, lots of onions and chicken pieces (boneless or bone in) and spiced with the typical suspects (cumin, coriander, garam masala, turmeric) I have used tomato paste with fresh tomatoes too, it gives a good color to the chicken.
read more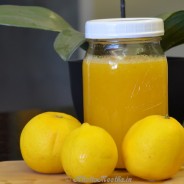 Homemade Energy Drink: For those of you know that I have been training for my first half marathon, after a long runs I crave for nice cooling drink and since I dont like gatorades, started to look for my options. I stumbled upon this drink and tried it, not only its super yummy and healthy, Its very easy to make too. We have lemons and oranges growing in our yard, so it worked out just perfect !!! You will need, honey ( contains tons of trace minerals), purified water, unrefined sea salt (electrolytes & trace minerals) Oranges and lemon...
read more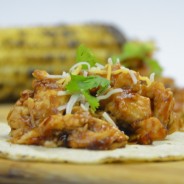 They are so delicious, and super quick and easy. In fact, you can use any cooked chicken you have, even one you grabbed at the super market. These tacos are inspired by California Pizza Kitchen's Original BBQ Pizza. Honey Barbeque chicken tacos are very easy to fix. BBQ chicken–is there anything better? My kids  love it on pizza, sandwiches, plain and now, in tacos. These are amazing and I'm definitely going to be making them again. Since everything's already prepared, there's practically no prep time involved. This is a perfect...
read more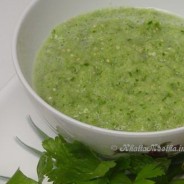 Today I made green salsa with tomatillos, onions and Jalapenos. This southern salsa verde recipe is very easy to make. Tomatillo Jalapeno salsa is a simplest of salsa verdes, with that fresh, tangy zing of tomatillos. This can be made raw,  however lightly charring the vegetables before pureeing them gives this salsa verde an alluring smokiness. This Roasted Tomatillo Salsa is great all on its own, with just some good, or with some salty tortilla chips. Enchiladas and tacos. I recommend using the salsa on black bean burgers and...
read more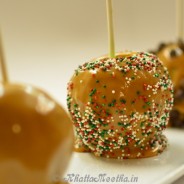 Caramel Apples – A quick and easy dessert recipe that kids and grownups will love.
read more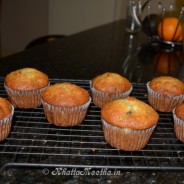 I could wake up every morning to the smell of fresh muffins baking in the oven, especially these. . Banana Nuts muffins is one of my favorite breakfast! I love the flavor of the muffins, you can taste the bananas. There isn't a bunch of sugar too where all you taste is sweet. Usually whenever you have overripe bananas that you don't want to go  waste this is a perfect recipe to utilise your bananas. For healthier option you could replace all purpose flour with whole wheat flour and sugar with brown sugar, both versions are equally...
read more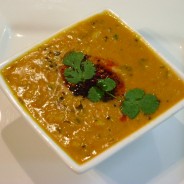 Panchmel Dal – This recipe is traditionally made with the five very commonly used lentils in India. This healthy protein rich recipe is really easy to make.
read more
Orange dark chocolate scones are one of my absolute favorite taste combinations and these scones  are a cinch to put together. With just a bit of orange zesting, a little chocolate chopping, and a drizzling of sweet citrus glaze, you've got yourself an extra special breakfast. The scones are moist yet flaky, and sweet but not overly so. The orange flavor really shined, though it wasn't overpowering and the dark chocolate complemented it perfectly. I will be making these again, You should make them too! 🙂 Note : For healthier version,...
read more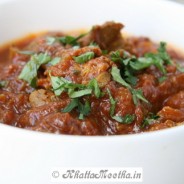 Chettinad cuisine comes from a region in the southern tip of India known as Tamil Nadu. This area traded mightily with Southeast Asia, producing rich dishes that are heavily flavored with a multitude of spices traditional in both Indian and Asian cooking, such as black pepper, garlic, chili, curry, cumin, cardamom, cloves, coriander, anise, and cinnamon Chettinad chicken is a spicy and sinfully yummy recipe, my friend cooked this curry once and since then we are hooked on it. It is really falovorful. You can adjust the spice level to...
read more