Recipes
This parantha recipe is inpired by my aunt who use to make these mouth-watering parathas which as a kid we all loved. Now my kids love it too 🙂 This is not a stuffed paratha and can be easily made.
read more
Raita is an indian condiment made with yogurt and used as a sauce or a dip, this raita goes very well with biryani or for that matter with any rice dish. Ingredients: 2 cups yogurt 1 small tomato 1 Cucumber 1/2 small onion 1/2 tsp roaster ground cumin salt to taste chopped cilantro Directions: Whisk the yogurt and keep aside. Then cut all the cucumber, tomato and onions into small pieces then mix it with yogurt, Then add salt and roasted cumin powder. Garnish it with some fresh cilantro, spring onion and enjoy....
read more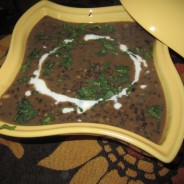 Sabut Urad dal is a very popular north Indian dish. Ingredients: Whole black gram (urad daal) 1/4 kg Fresh cream 2 tbsp Onions 2 Ginger 1/2 piece Cloves of garlic 2 Green chillies 3 Cumin seeds 1 tsp Salt to taste Ghee as required Cooking Directions: Cook lentils in a pressure cooker for ten minutes. Lower the pressure, put in the cream and let it cook on medium heat for 1 hour. Add enough water. When nicely cooked, heat 1-2 tbsp of ghee and fry the onions, ginger, garlic, green chillies and cumin seeds to a golden brown. Put...
read more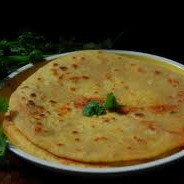 This parantha recipe reminds me of all road side dhabas in India. Ingredients 2 cups wheat flour Salt to taste 2-3 white radish 1/2 tsp green chilli cut in small pieces 1/2 tsp red chilli powder A bit of amchur powder Finely chopped coriander leaves A bit of cumin seeds powder Oil/Ghee Cooking Directions Make a soft dough of wheat flour, salt and water and keep it covered for 1/2 hour. Peel out the skin of the radish and grate it finely. Add salt to it and let it stay covered for 10 to 15 minutes. Now squeeze out the excess water of...
read more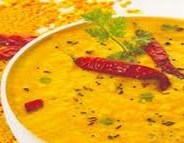 A good daal makes a meal, makes a moment, raises a smile of contentment. Not easy to explain the fulfilment a good daal can provide
read more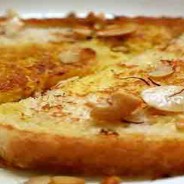 A great tasting dessert with very little preparation time.
read more