Recipes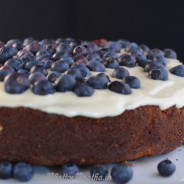 Happy thanksgiving !!! Today for thanksgiving dinner I am making Almond Blueberry and Lemon cake. My parents are in town and my mom is diabetic so I wanted her to enjoy the cake guilt free. .It's lovely for afternoon tea or a  holiday dessert. Almond Blueberries and lemon cake with a poppy seeds is just a beautiful marriage of flavors.This is such a delicious recipe definitely for those of us who like light sweet desserts.The ground almonds in this zingy lemon cake give it a beautiful texture – you'll love it . I have used just...
read more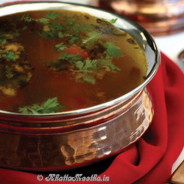 Rasam or Chaaru or Saaru or Kabir is a South Indian soup, traditionally prepared using tamarind juice as a base, with the addition of tomato, chili pepper, pepper, cumin and other spices as seasonings. Rasam is prepared mainly with black pepper and tamarind or tomato, both ingredients abundant in South India.There are several kinds of rasam, Ginger rasam, tomato rasam, cumin rasam to name a few,today I am making pepper rasam, this is super easy and quick recipe. Pepper rasam is one of our favorite rasam, it has nice kick to it. This rasam...
read more
Kachori is supposed to have originated in Uttar Pradesh or Rajasthan. In these states it is usually a round flattened ball made of fine flour filled with a stuffing usually lentils( mung dal or urad dal) are very common breafast. Today I am making matar kachori, this is one my favorite winter time dish served with  dum aloo, this recipe brings back my chidhood memories :).. Matar kachori  – a flaky, crisp deep fried pastry filled with spiced peas filling. in hindi matar means peas and kachori is the fried & flaky pastry. NOTE :  If the...
read more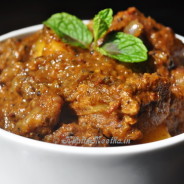 Haandi Gosht (Lamb/Goat Stew) is meat stew cooked in Haandi. Haandi is a deep and narrow-mouthed cooking utensil used in Indian subcontinent.Meat is cooked with blend of spices and lamb/goat from Punjab region. Meat is cut into pieces and cooked with spices. Handi gosht  is a one pot meal, If you like spicy gravies with chapatis or parathas, then you have come to the right spot. This spicy mouth watering mutton dish will make a perfect companion to different dishes like chapatis, parathas, briyani or even dosa. Traditionally cooked in a deep...
read more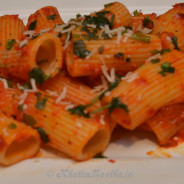 Need a new pasta recipe that comes together in twenty minutes? This one-pot meal is not only fast, it's delicious. Roasted red peppers and garlic pasta.It's pasta night! Whether you're planning for Meatless Monday, a regular weeknight dinner, or have special company coming to visit, our vegetarian Italian dishes are just the ticket. Try one of these vegetarian pasta recipes for your next meal. With recipe the possibilities are endless you can toss in zucchini, broccoli, carrots or mushrooms any your favorite vegetables. I...
read more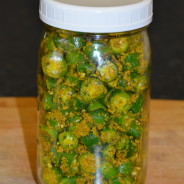 Green Chilli Pickle is a delightful way to spice up any meal. This is an easy green chilli pickle or hari mirch ka aachar recipe. Somedays I crave for homemade pickles, my mom is an expert in instant pickles. She makes pickles out of everything, cauliflower, carrots, beets, garlic and ginger to name few. This green chilli pickle recipe is an instant one, gets ready in 2 days to start eating. I like to make these in small quantities so it can be consumed in 2-3 weeks.  It stays fresh for upto 4 weeks in room temperature. If you want a...
read more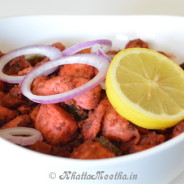 Chicken 65 traditionally is a spicy, deep-fried chicken recipe. The flavor of the chicken comes from the delicious ginger-garlic paste which is used as a marinade on the chicken pieces. Enjoy the crispy fried chicken 65 with onion rings and green chutney..As you know I don't like to use too much oil in my cooking, I have altered the classic to suit my style, so I can enjoy my favorite recipe guilt free.  I'm not exactly sure of the origins of the name, but this is indeed a true mouth watering dry chicken dish. It's not a tough...
read more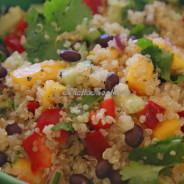 Love the flavors in this gorgeous quinoa salad. This bright and colorful salad is a great summertime recipe (or anytime you want to feel like it's summertime). Light and citrusy, it's a whole new way to enjoy quinoa. Lime juice and cilantro give a refreshing kick, while quinoa and black beans provide tasty vegan protein.This fluffy, crunchy, gluten-free whole grain salad made with high protein quinoa (keen-wah) is delicious as well as nutritious. Serve chilled or room temperature, Its great for lunch and dinner in the heat of...
read more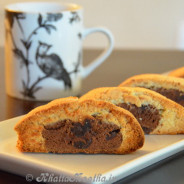 Biscotti is meant to be very crisp, and dunked in coffee to soften it. Let me just tell you, it's some pretty amazing goodness! These dunking cookies are are ultra-satisfying with a cup of coffee or a glass of milk or Chai Latte (my personal favorite)  Have to admit that I am addicted to Starbucks Chocolate spiced biscotti. Choocolate spiced biscotti are cooked by making  2 types of dough, chocolate and vanilla and then wrapping the vanilla dough over the chocolate like a blanket and then baking it twice.The chocolate portion of the...
read more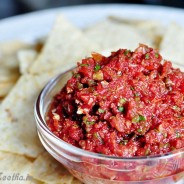 Oven Roasted Tomato Salsa dip is like heaven in bowl. The sweet and smoky flavors of slow roasted tomatoes make this salsa something special. A little time under the broiler intensifies the aroma and flavors of the tomatoes, jalapenos, onion, and garlic here, adding a rich, smoky flavor to this salsa. It is tomato season and seeing the fresh tomatoes in the super market I thought of taking up the challenge of making homemade roasted tomato salsa, usually I make my salsa with can of Rotel tomatoes, I am glad that I tried his recipe. My...
read more