Recipes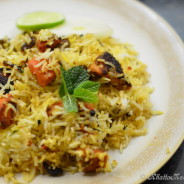 Bejawada biryani is perpetration which is served in a new restaurant which opened here in L.A.Traditionally kachchi gosht ki biryani is prepared with meat marinated with spices overnight and again soaked in yogurt before cooking. The meat is sandwiched between layers of fragrant long-grained basmati rice, and is cooked on dum (steaming over coals), after sealing the handi (vessel) with a layer of dough. This is a challenging process as it requires meticulous attention to time and temperature to avoid over- or under-cooking the...
read more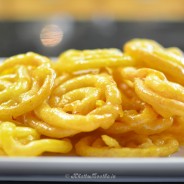 Jalebi I think this  is undoubtedly a hot favorite with most of the people. I remember as kids every once in a while on sundays we use to have jelibi's for breakfast. As a little girl it was  a treat to watch the Halwai ( confectioners ) convert the white batter to something yellow, crispy, juicy and not to mention sweet within a matter of a few minutes. He would then wrap a dozen Jalebis in a sheet of news paper and pass it on to us. This Jalebi recipe, an Indian fried dough, looks and tastes quite a lot like funnel cakes and is...
read more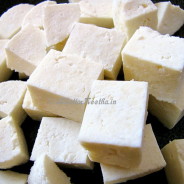 I have been asked several times how do you make paneer (Indian cottage cheese). I was cooking with my friend last week and she wanted to make karahi paneer, however she did not have paneer at home,  So I thought let me make and  post how to make home made paneer. Paneer is a Indian cheese and is super easy to make. Making paneer only requires two ingredients, whole milk and lemon juice/curd/ vinegar. you can either use lemon juice / vinegar or curd to curdle milk but this is how mom makes and it comes out perfect every-time. Do give a try...
read more
Chocolate Raspberry Triffle is  SO DROOLWORTHY! Perfect for the holidays, too. For a fabulous finale when entertaining, Chocolate Raspberry  layered trifle is a winner! "It's a do-ahead dessert that serves a group, and it even tastes great the next day,"It is super easy to put together and will make a chocolate lover your new best friend! What a stunning dessert the Trifle makes with its multiple layers that have so many colors, textures and flavors. The English have enjoyed this dessert for over three centuries now....
read more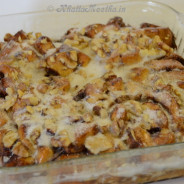 Every Sunday I like to fix up something special for a morning brunch. Especially after delicious food for thanksgiving this was perfect Sunday breakfast to end four day weekend . I love holidays and, Cinnamon Baked French toast is definitely going to be our new holiday tradition. The great thing about Cinnamon baked French toast is that you can make it on the spot and bake it right away assemble with refrigerated cinnamon rolls that make quick work of favorite French toast flavors.. Simply scrumptious. I have made a slightly different...
read more
Vegetable Puffs are a wonderful snack option for the days that you want something substantial and you can't wait very long for it to be made!! Vegetable puffs are amazing crispy and crunchy puff pastry filled with different types of flavorful vegetarian fillings.  You can make any of your favorite filling and stuff in pastry sheets and bake and enjoy homemade puffs/ Patties. You can buy the puff pastry sheets from store and its super easy to make these mouth- watering recipe. These College-Canteen favorites are wonderful and the will take...
read more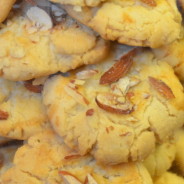 My girlfriend introduced me to these delicious treats. And ever since then I have been hooked to these. Almond cookies are so easy to make . Â I love almonds and almond extract! My 9-year-old son and I just finished them, and they are TO-DIE-FOR!!! Melt in your mouth! Â My boys had so much fun helping to roll the balls and put the almonds and glaze on. Since it is festive season I decided to make Almond cookies along with my other sweet treats which I make every year for Diwali. And since it was for Diwali I did not use the egg wash, it came...
read more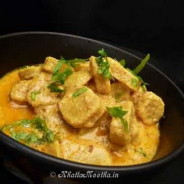 Rasaj is a north Indian recipe very popular in Uttar pradesh. Â Rasaj is mostly prepared for marraiges in this region. This besan sabzi is very similar to Gatte ki sabzi made in Rajashtan, the two primary differences are that in Rasaj, the besan is cooked in pan in halwa consistency unlike its rajahani counterpart, secondly Rasaj is made in tomato onion based curry. So today I bring to you classic recipe of besab ki sabzi, this is my moms recipe and since she is visiting me, I had to make Rasaj for her with my mix -o- match style. Rasaj...
read more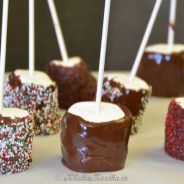 Marshmallow pops are a fun and simple craft to try at your next birthday party or next time the kids are bored and want to try something new.I made these this week what a fun treat, the kids loved them. You can also use mini cupcake cups instead of wax paper. I also put my in the fridge for an hour or so  to harden. You can make them for holidays and Halloween using orange sprinkles or for 4th of July celebration with red white and blue sprinkles.  My kids and I love making these. Great fun for young cooks….and tastes wonderful as...
read more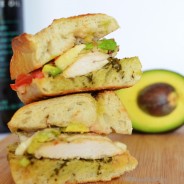 This recipe is a favorite in our home and so easy.! I've even used individual sub rolls and regular sliced bread when I don't have Italian bread, and this recipe is always a hit! If you happen to like more tomatoes and less cheese, go for it. If you want to leave out some of the spices, or add a few more of your own, just do it! You don't  need a panini press to make a sandwich like this, any sandwich maker or griddle will work just fine. . I highly recommend using a ball of fresh mozzarella rather than packaged sliced...
read more