Pepper Rasam (Black Pepper soup)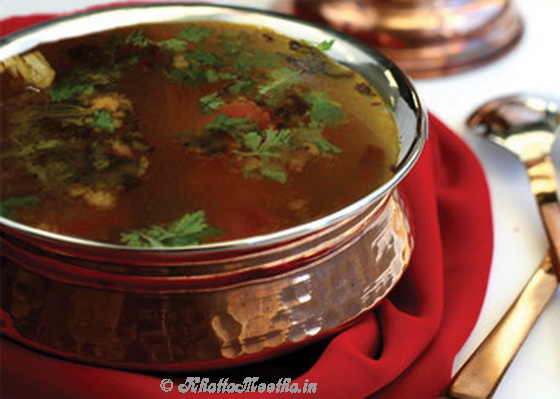 Rasam or Chaaru or Saaru or Kabir is a South Indian soup, traditionally prepared using tamarind juice as a base, with the addition of tomato, chili pepper, pepper, cumin and other spices as seasonings. Rasam is prepared mainly with black pepper and tamarind or tomato, both ingredients abundant in South India.There are several kinds of rasam, Ginger rasam, tomato rasam, cumin rasam to name a few,today I am making pepper rasam, this is super easy and quick recipe. Pepper rasam is one of our favorite rasam, it has nice kick to it. This rasam is perfect for a rainy day or even when you are coming down with little cold.Whatever is your motivation to make this dish this one sure is a winner.
Pepper Rasam
Ingredients
Ingredients:
1 lemon-sized ball of tamarind
3-4 cloves of garlic, peeled and slightly crushed
1 generous pinch of hing / asafoetida
¼ tsp of turmeric powder
1 tomato, chopped
Salt to taste
To dry roast (roast without oil)
2-4 dry red chillies
2 tbsp of channa dal / kadala paruppu
1 tbsp of toor dal
2 tbsp of coriander seeds
1 tbsp of black peppercorns
½ tbsp of jeera / cumin seeds
A few curry leaves
To temper:
2 tsp of ghee
¼ tsp of mustard seeds
Instructions
Take all the ingredients to dry roast
Dry roast the ingredients mentioned in the list until the dals turn golden brown.
]
Make sure you keep the flame at low and keep mixing at all times for uniform browning.
Cool this mixture, grind to a powder, and set aside.
Soak the tamarind in a cup of warm water, Extract juice and discard pulp.
Place the tamarind extract in a pan and add the peeled garlic, hing, turmeric, chopped tomato, and some salt. Bring to a boil.
When the mixture has boiled for about 3 mins,add the ground spice powder. You can add half of it to begin with and taste as you go for spice and flavour. The quantity need will change depending on how strong your tamarind is and your personal preference.
Boil this mixture for about 20 mins until the raw smell leaves the tamarind mixture.
When the rasam has boiled long enough, remove from fire and heat the ghee in a small (tadka) pan. Add mustard seeds and ¼ tsp jeera and when they splutter,
dunk the entire thing into the rasam. Adjust salt.