Rasaj (Chickpea flour dumpling)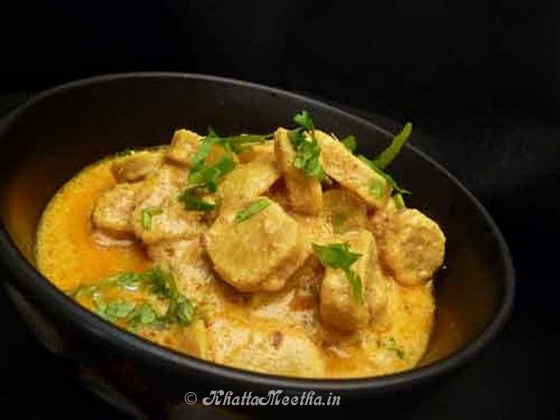 Rasaj is a north Indian recipe very popular in Uttar pradesh. Â Rasaj is mostly prepared for marraiges in this region. This besan sabzi is very similar to Gatte ki sabzi made in Rajashtan, the two primary differences are that in Rasaj, the besan is cooked in pan in halwa consistency unlike its rajahani counterpart, secondly Rasaj is made in tomato onion based curry. So today I bring to you classic recipe of besab ki sabzi, this is my moms recipe and since she is visiting me, I had to make Rasaj for her with my mix -o- match style.

Rasaj
Ingredients
2 cups Besan (chickpeas flour)
1 teaspoon Red chilli powder
1 teaspoon turmeric powder
1 teaspoon cumin powder
½ teaspoon Asafetida powder
water as required
For Curry
1 large onion (pureed)
2 teaspoon ginger paste
1 teaspoon garlic paste
2 teaspoon coriander powder
1 teaspoon tumeric powder
1 teaspoon chilli powder
2 teaspoon cumin powder
1 teaspoon garam masala
½ cup tomato paste
cilantro chopped for garnish
Instructions
Mix red chilly, turmeric, cumin powders and salt to Besan (Gram Flour)
Add 11/2 cup of water to besan make a pancake like mixture.(add more water if required)
Add 2 teaspoon oil in a non-stick pan and add this besan mixture when oil is ready
Saute it to get to the consistency of Halwa
Once done, spread it out on plate like Singhara halwa.
After it it cooled, cut it in desired shape
Heat 2 tablespoon in a pan, saute rasaj pieces for 4-5 minutes
Heat 2 teaspoon oil in a pan, add onion, garlic cloves and chopped ginger paste
Add dry spices, turmeric, coriander, cumin, red chilli powders
mix with onion mixture and cook till masala leaves oil
Next add the tomato puree to the onion mixture and cook for 3-4 minutes
Add water to the masala and let it boil
then add rasaj pieces when gravy starts to boil, cook for 5-7 minutes.
Garnish with chopped cilantro/ hari dhania .
Serve hot with Roti or Rice
Enjoy !!