Marshmallow Pops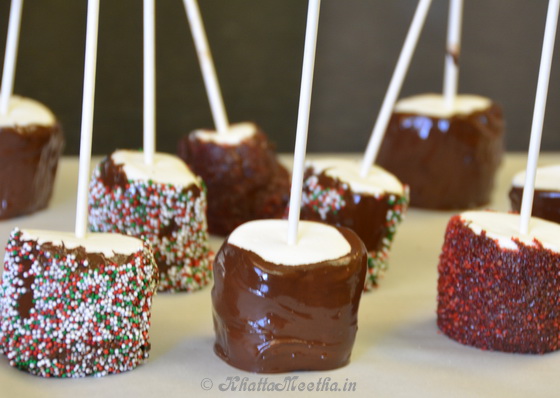 Marshmallow pops are a fun and simple craft to try at your next birthday party or next time the kids are bored and want to try something new.I made these this week what a fun treat, the kids loved them. You can also use mini cupcake cups instead of wax paper. I also put my in the fridge for an hour or so  to harden.
You can make them for holidays and Halloween using orange sprinkles or for 4th of July celebration with red white and blue sprinkles. Â My kids and I love making these. Great fun for young cooks….and tastes wonderful as well!! 🙂
Marshmallow Pops
Ingredients
10 large Marshmallows
Lollipop sticks (found at cake decorating or craft stores)
packet Semi sweet chocolate chips
sprinkles for decoration
Instructions
Line the baking sheet with parchment paper.
Push the lollipop stick half way through the marshmallow and keep aside.
Melt the chocolate chips in a double broiler or microwave it for 3-4 minutes.
Dip the marshmallows in chocolate
then coat it with the sprinkles or icing of your choice.
Put them in refrigerator to harden for 15 - 20 minutes.
Enjoy!!!!