Samosa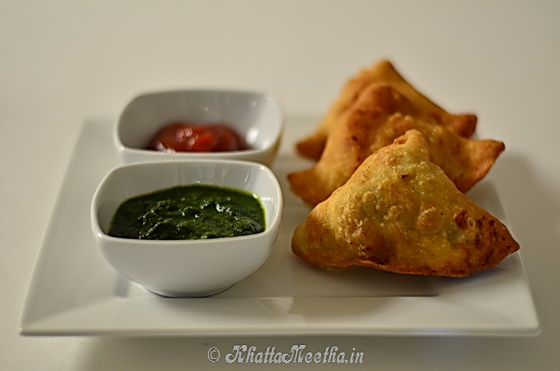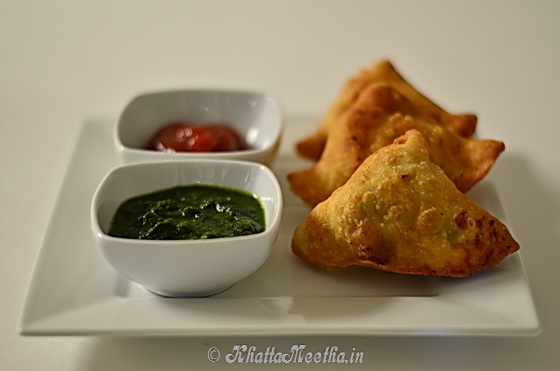 A samosa is a fried or baked pastry with a savory filling such as spiced potatoes, peas, peanuts, raisins and cashews. Samosas are the most famous street food in India. They are best served with Cilantro or Date Chutney or simply with tomato ketchup. For samosa you could use store bought pastry(spring roll roll wraps or Phillo Dough),  or make it home from the scratch. As for filling this is my favorite potato mix I've come across, best part is you could alter the spice level according to your taste. Personally the samosas served in Indian restaurant here are too bland and often too greasy.
And all my health freak friends, just spray on olive oil and bake in an oven till golden brown for a low-fat healthy version. These turned out great.
Note : Samosa can be prepared ahead of time and can be frozen for couple of months. Just fry them before use.
Samosa Recipe
By Richa Published: June 2, 2012
Yield:

30 (15 Servings)

Prep:

40 mins

Cook:

30 mins

Ready In:

1 hr 10 mins
A samosa is a fried or baked pastry with a savory filling such as spiced potatoes, peas, peanuts, raisins and cashews. …
Ingredients
Instructions
Mix the flour,Semolina flour/ sooji, salt,carom seeds/ ajwain, oil and salt togather to make a soft dough. Set the dough aside and cover it with damp cloth. Let the dough sit for at least 15 minutes.

Heat 2 table spoon oil in a pan. Add cumin seeds as cumin seeds crack, add green chilies and peanuts saute it for few minutes.

when the peanuts starts to turn brown add peas let it cook for 2-3 minutes till the peas get soft

Add potatoes, Stir in garam masala, coriander powder, raisins and amchur. Let it cook for 5 minutes, so that the potatoes take the flavor of the spices.

Take 2 tablespoons of water and 1 tablespoon of all-purpose flour to make a mix and keep aside.

Divide the dough into 15 equal parts. Roll each ball into 6-inch diameter circles and cut each circle in half.

Brush each edge with a water and all purpose paste and form a cone shape around your fingers, sealing the dampened edge.

Fill the cone with 11/2 tablespoon of mixture.

Now close the top of this cone into a triangle shape, Press the two dampened edges together to seal the top of the cone.Continue filling the rest of the samosas

Heat about 1-1/2 inch of the oil in a frying pan on medium heat. Deep fry the samosas in hot oil until crisp and brown take out and drain on a paper towel Enjoy with your favorite dip.