Malai Kofta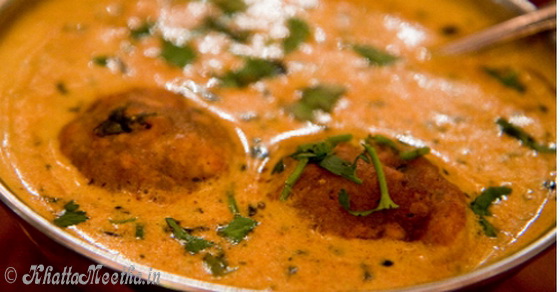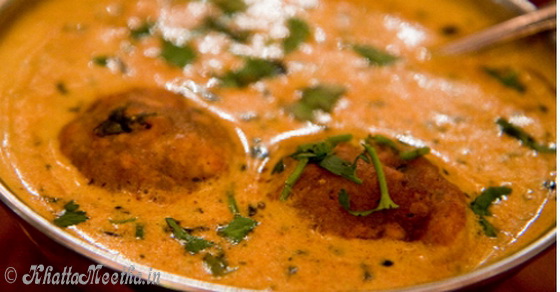 Malai Kofta is a delicious, creamy, savoury dish of Moghlai origin. Malai Kofta is a north Indian speciality and is the vegetarian version of the famous Kofta (cheese balls) curries. This recipe is one of the most famous curry and is served in Indian restaurants around the world.
Malai refers to Cream and the Kofta are deep fried veggie balls. Together they blend in a creamy Indian saucy curry which will delight your taste buds.
Malai Kofta is a dish for special occasions, and a vegetarian alternative to meatballs. It also goes very well with naan bread or rice, making it a satisfyingly filling dish.
Malai Kofta Recipe
By Richa Published: September 5, 2012
Malai Kofta is a delicious, creamy, savoury dish of Moghlai origin. Malai Kofta is a north Indian speciality and is the vegetarian …
Ingredients
Instructions
Mash the potatoes, carrots, paneer and cream together. Add cumin and coriander powder, salt and mix well. The resulting dough should be firm. If not add some more boiled potato.

Whisk 2 tablespoon all purpose flour and 4 tablespoon water and keep aside. this mixture prevents the cheese balls to break while frying.

Make this 'dough' into balls and put 1/2 a tsp of the nut and raisin mix in the centre of each ball. Roll into perfect rounds. Coat the balls with all purpose flour and water mix, one at a time.

Heat the oil to fry the Koftas, on a medium flame. Deep fry these rounds till pale golden in color.

Drain on paper towels and keep aside.

Heat the 2 tbsp of oil in a deep pan and fry the onions till light brown. Grind these onions into a paste along with ginger, garlic, coriander, cumin and red chilli powders.

Put this paste back into the pan and fry till the oil begins to separate from the masala.

Add tomato and nut paste and saute for couple of minutes. Add 1/2 cup of cream and one cup of warm water to this masala to form a sauce/gravy (the sauce for this dish is meant to be thick so do not add too much water).

Bring the sauce/gravy to a boil and then reduce to a simmer. Gently add the Koftas to this sauce/gravy and cook uncovered for 2 - 3 minutes.

Turn off the heat and garnish with chopped cilantro and cream. Serve with hot naan bread or rice