Baklava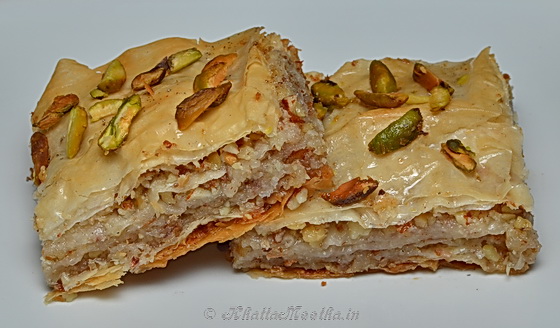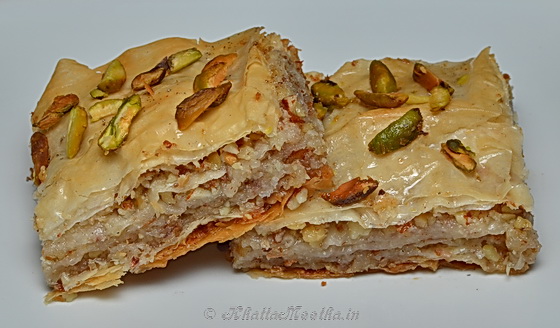 Ever since I had baklava  have been wanting to make it.  It was very intimidating so kept postponing, but today when I opened my freezer and saw the phyllo dough, I thought lets give it a try. Once you start  it is really simple.
Baklava is a delicious phyllo pastry popular in Middle Eastern countries.In baklava, layers of crisp phyllo dough alternate with a sugary spiced nut mixture, and the whole thing is then soaked in fragrant sweet syrup made with sugar, lemon and cinnamon or cardamon. It's an exotic and decadent treat to be sure.
The phyllo dough for this recipe is found in the freezer section of most grocery stores. The one trick I learned?  Don't worry about the phyllo staying in one piece – it's no big deal it if breaks, you will never know! Make sure you thaw the phyllo overnite in refrigerator before using it.
I am super exicited as this is my 100th post, it feels like just few days back started writing my blog, thanks for all your support and comments. To celebrate this milestone, wanted to put something sweet, so I took the challenge and made Baklava 🙂
NOTE –  One  9×13 pan makes 24- 30 pieces depends how you cut it. Also you can make them 3-5 days ahead and save them at room temperature in an air tight container.
Baklava Recipe
By Richa Published: August 2, 2012
Prep:

25 mins

Cook:

30 mins

Ready In:

55 mins
Ever since I had baklava  have been wanting to make it.  It was very intimidating so kept postponing, but today when I …
Ingredients
Instructions