Cinnamon Baked French Toast
Every Sunday I like to fix up something special for a morning brunch. Especially after delicious food for thanksgiving this was perfect Sunday breakfast to end four day weekend . I love holidays and, Cinnamon Baked French toast is definitely going to be our new holiday tradition.
The great thing about Cinnamon baked French toast is that you can make it on the spot and bake it right away assemble with refrigerated cinnamon rolls that make quick work of favorite French toast flavors.. Simply scrumptious. I have made a slightly different versions of baked french recipe this one is my absolute favorite. This recipe is adapted from Pillsbury/ baked french toast recipe.
This is a perfect recipe for holiday season, I always made a French toast that you would have to soak over night. Never again, this one is soooo good!!!! It is so easy to make. I highly recommend this recipe. I did not add the additional maple syrup on top. Â And is absolutely beautiful when you take it out of the oven. The real test- – – is the taste. Very tasty !
NOTE : Alternately you can use regular white bread,Cinnamon bread, french bread or cinnamon raisin bread in place of Pillsbury cinnamon rolls.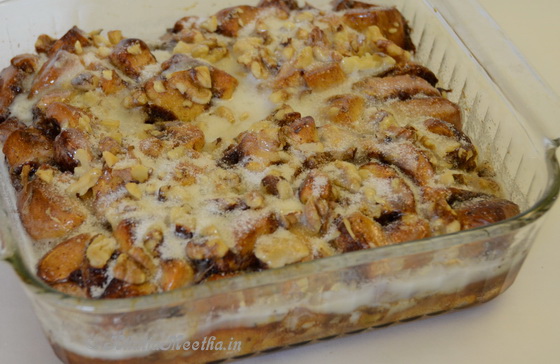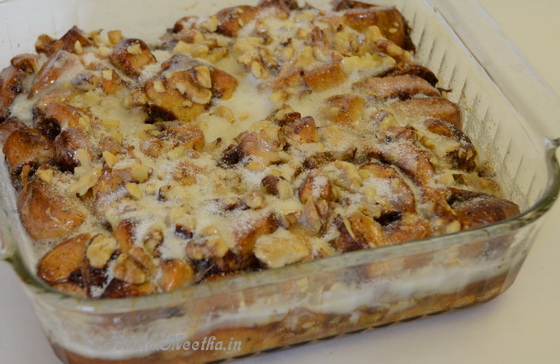 Cinnamon Baked French Toast
Ingredients
¼ cup butter, melted
1 cans (12.4 oz each) Pillsbury cinnamon rolls
2 eggs
¼ cup heavy whipping cream
11/2 tsp cinnamon
⅛ tsp nutmeg
1 tsp vanilla extract
¼ cup finely chopped pecans/walnuts
Icing from cinnamon rolls
Powdered sugar, if desired
Instructions
Melt butter, pour and spread evenly into 8x8 baking dish
In a bowl, beat together eggs, cream, cinnamon, nutmeg and vanilla.
Open canned cinnamon rolls, slice each into eighths.
Place cinnamon roll pieces into the bowl of egg mixture and toss to thoroughly coat them in egg.
Then pour the pieces, coated in egg mixture, into your baking dish and spread out evenly.
Any remaining egg mixture, you can brush over top of areas that look like they might get dry.
Sprinkle with wanuts and then bake on 350Ëš on a low rack for 40-45 minutes.
Remove bake from oven
Warm icing from cinnamon rolls in microwave for 30 seconds pour evenly over bake.
Sprinkle with powdered sugar if desired.