Peas Paneer Samosas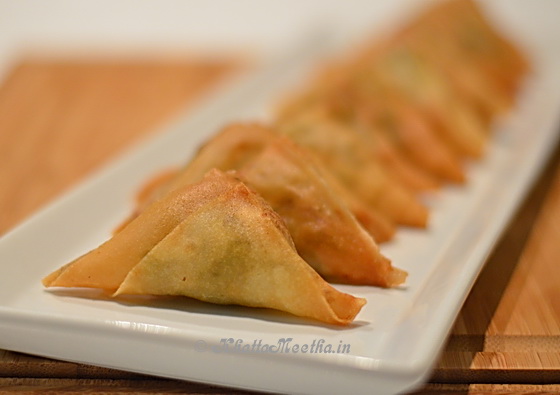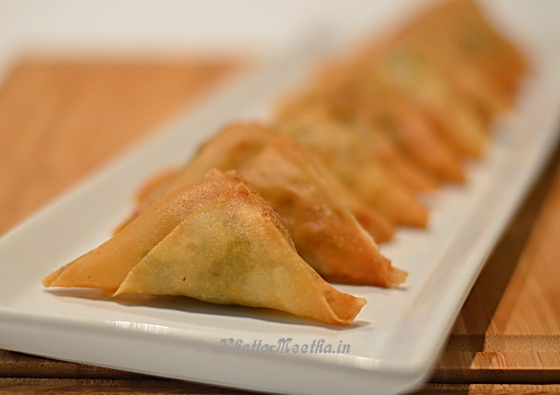 Samosas are one of the few Indian fried treats that I just can't get enough of. I was wondering what to make for potluck for new years party, I had to pick some appetizer, So  came up with the idea of  peas paneer samosas.
Flaky fried pastries with savory fillings, samosas vary in shape by location and by cook. Indian samosas such as these are traditionally triangular or conical. The most popular filling is a mixture of potatoes and peas, seasoned with fragrant spices. Personally matar paneer samosas are one of my favorite.
When making samosas at home, I would probably bake them in the oven versus frying them.  just spray on olive oil and bake in an oven till golden brown for a low-fat healthy version. These turned out great too.
Note : Samosa can be prepared ahead of time and can be frozen for couple of months. Just fry them before use.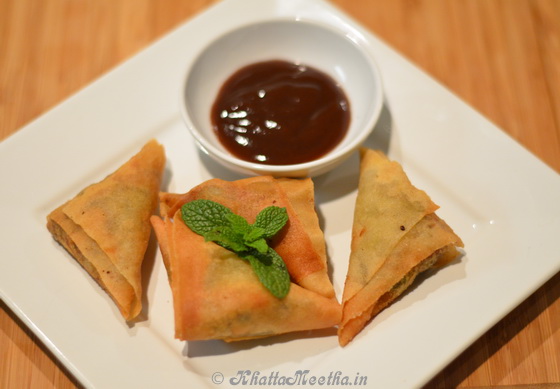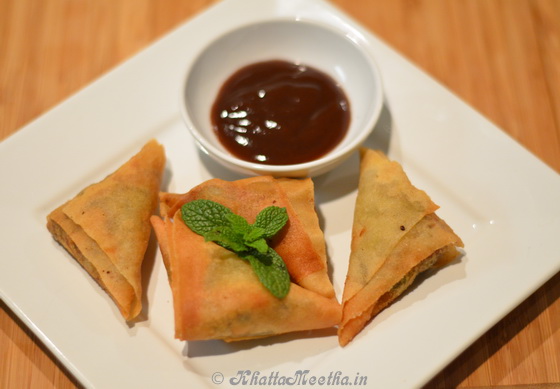 Peas Paneer Samosas Recipe
By Richa Published: January 1, 2013
Yield:

40

Prep:

45 mins

Cook:

30 mins

Ready In:

1 hr 15 mins
Samosas are one of the few Indian fried treats that I just can't get enough of. I was wondering what to make for potluck …
Ingredients
Instructions
Thaw paneer, peas and egg rolls wraps before use.

Heat oil in pan and saute paes for couple of minutes

coarsely ground cilantro, cumin, green chillies and ginger

add the mixture to the paes and cook for 5 minutes

next add dry spices, chaat masala, red chilli powder, garam masala and salt and stir.

add the mashed potatoes to the peas mix well. Take it of heat and let it cool

Finally add crushed paneer and mix. Now the samosa filling is ready.

Cut the egg roll warp into three strips

Mix all purpose flour and water to use as sealer for samosas. Start folding the strips into traingle as you would a flag to create a neat triangle

fill a teaspoon of filling and and seal the the last fold with the all purpose sealer and set aside.

Repeat he process for rest of the samosas

Now heat oil in a frying pan and once the oil is ready to fry drop the samosa one by one and fry them till it turns golden brown