Karahi Chicken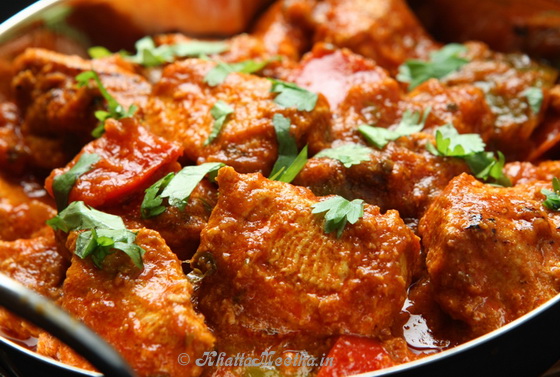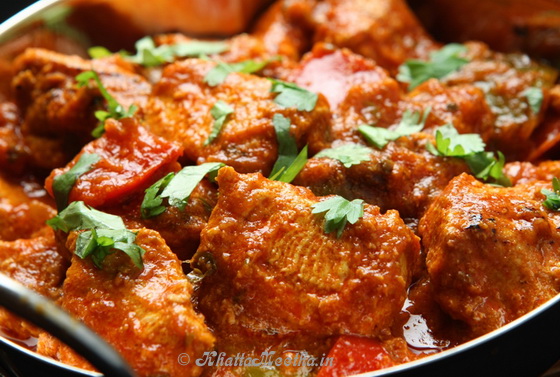 Chicken Karahi, chicken cooked in karahi with spicy gravy.This is simplest and most fantastic dish. The chicken is succulent beyond words coupled with the flavorful tomato based gravy.
Karahi chicken is a comforting curry/stew that originated in northern India . It is traditionally made with fresh tomatoes, lots of onions and chicken pieces (boneless or bone in) and spiced with the typical suspects (cumin, coriander, garam masala, turmeric) I have used tomato paste with fresh tomatoes too, it gives a good color to the chicken.
It's comforting  and quick to make and isn't as heavy as my usual go-to curry. I have this in my recipe rotation   list…and maybe you can see it in yours too!

Karahi Chicken
Ingredients
For Marinade
1pound Chicken (cut in small pieces)
1 teaspoon ginger paste
11/2 teaspoon garlic paste
2 teaspoon chili powder
½ teaspoon turmeric powder
2 tablespoon yogurt
1 tablespoon lemon juice
For Gravy
1 tsp. coriander seeds, roasted then grinded into a powder
1 teaspoon cumin seeds
2 Bell pepper / capsicum(cut in inch squares)
2 cloves
2 pieces cinnamon sticks
2 cardamom
3 tablespoon oil
2 onions, chopped
6 tomatoes, chopped
4 tablespoon tomato paste
1 chopped capsicum/pepper (optional)
2-3 green chilies, slit in half
1 teaspoon chili powder
1 teaspoon ginger paste
1 teaspoon minced garlic
½ teaspoon cumin powder
½ teaspoon garam masala
salt to taste
cilantro leaves, chopped
Instructions
Marinate chicken for 2-3 hours.
Heat the oil , add the whole spices (cumin, cardamom, cinnamon, pepper, cloves). wait till it starts to sputter.
Add chopped onions saute the onions on medium heat until golden brown.
Then add ginger and garlic paste and stir.
Next add chopped tomatoes and cook till it becomes soft and the gravy starts to leave oil.
Add the marinated chicken pieces mix it well onion and tomato gravy let it cook it for 5-7 minutes until it starts to change color.
Add the dry spices, cumin powder, chili powder and dry roasted and ground coriander powder. Add salt and mix it well, then add ¾ cup of water cover the pot and let the chicken simmer on low heat for about 15 minutes.
Add the pepper to the chicken mix well and cook on medium flame till the chicken is completely done.
Garnish with cilantro leaves and Serve hot with Naan or Rice
Enjoy!