Chicken 65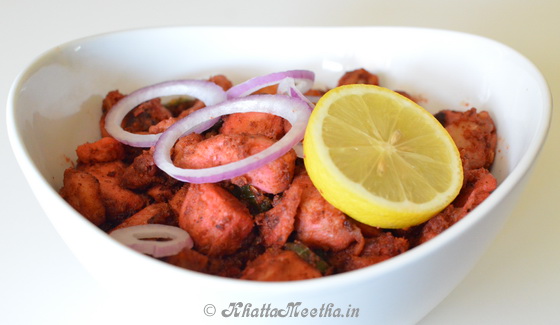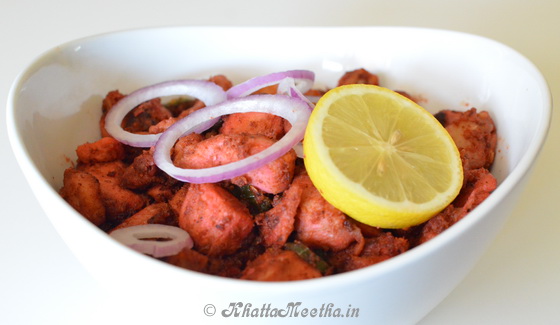 Chicken 65 traditionally is a spicy, deep-fried chicken recipe. The flavor of the chicken comes from the delicious ginger-garlic paste which is used as a marinade on the chicken pieces. Enjoy the crispy fried chicken 65 with onion rings and green chutney..As you know I don't like to use too much oil in my cooking, I have altered the classic to suit my style, so I can enjoy my favorite recipe guilt free.  I'm not exactly sure of the origins of the name, but this is indeed a true mouth watering dry chicken dish. It's not a tough job to get restaurant quality, this is a very easy method to cook at home with a restaurant style taste. –However if like deep frying better go ahead and do that.
Also my friends who do not have all the spices in their pantry, I have recommended to use a store bought masala for this recipe, its easily available in most of the Indian stores here.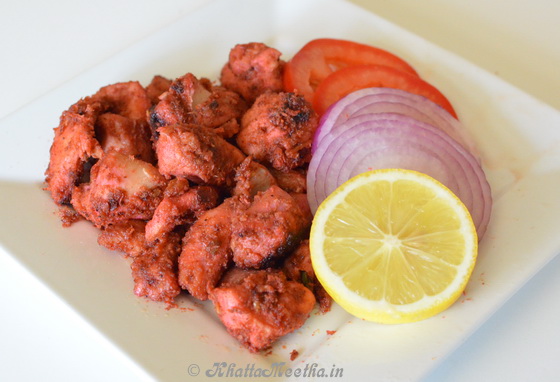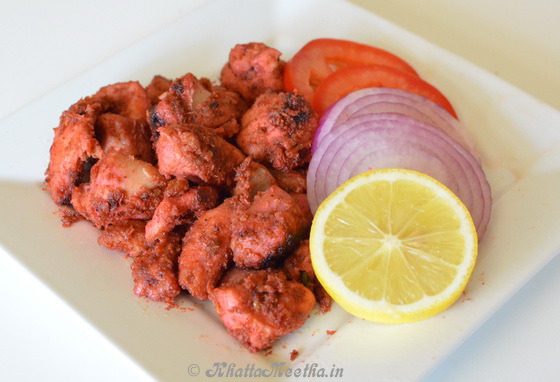 Chicken 65
Ingredients
For the marinade:
Cleaned Boneless Chicken - ½ kg (cut in small pieces pieces)
Ginger Garlic Paste - 2 tsp
Coriander Powder - 2 tsp
Red Chili Powder - 3 tsp
Cumin Powder - ¼ tsp
Corn Flour - 2 tsp
Rice Flour - ¾ tsp (optional)
Red Food Color - ¼ tsp
Lemon Juice - 1 tbsp
Egg - 1
Salt - to taste
Alternately
use Shan's Chicken sheekh kabab masala,
2 tablespoon yogurt
3 teaspoon ginger-garlic paste
red food color
pinch of salt
Instructions
Marinade chicken with all the ingredients and refrigerate for 1-2 hour. or (yogurt, garlic- ginger paste and Shan's chicken tikka seekh kabab masala)

Take a deep pan and in 1 tablespoon of oil cook the the marinated chicken for 15-20 minutes, this helps to cook the chicken and reduces the use of oil too.

In saute pan add 4 tablespoon of oil and add jalapenos slices, once they start to change color add chicken and simmer.

let it cook for few minutes until the chicken starts to get crispier outside.

Garnish with onions and lemon and serve hot !!