Jalebi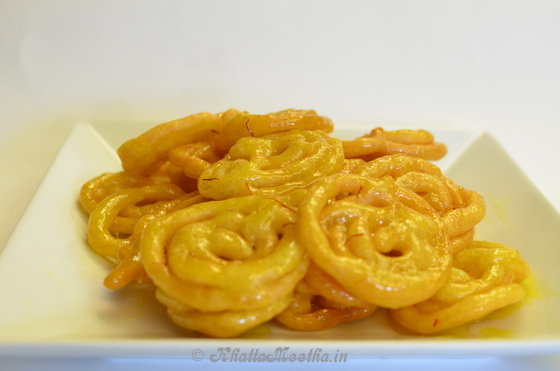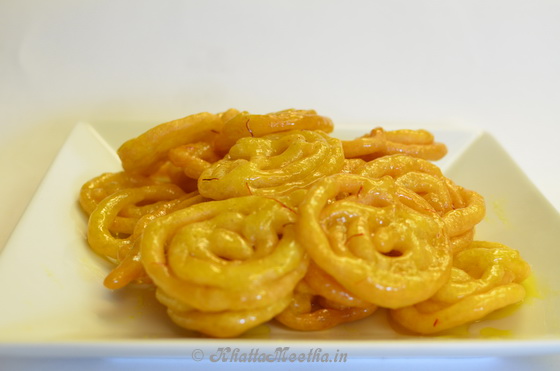 Jalebi I think this  is undoubtedly a hot favorite with most of the people. I remember as kids every once in a while on sundays we use to have jelibi's for breakfast. As a little girl it was  a treat to watch the Halwai ( confectioners ) convert the white batter to something yellow, crispy, juicy and not to mention sweet within a matter of a few minutes. He would then wrap a dozen Jalebis in a sheet of news paper and pass it on to us.
This Jalebi recipe, an Indian fried dough, looks and tastes quite a lot like funnel cakes and is sticky and sweet. Jalebi are traditionally turned a vibrant shade by adding a few drops of orange or yellow food coloring to the batter. Crunchy sweet spirals dipped in sugar syrup, adding sweetness and moistness to the crunch! Jalebi is traditionally prepared by overnight soaking the batter, today I am sharing the instant Jalebi recipe.
Jalebi can either be eaten as is or it can be dipped in warm milk or in chilled rabdi for an extra special treat. Most of the people like to have this Jalebi on occasions like Diwali, Dushehra, Marriages and for that matter Jalebi can make any occasion special. So enjoy this sweet treat and let me know how you liked it.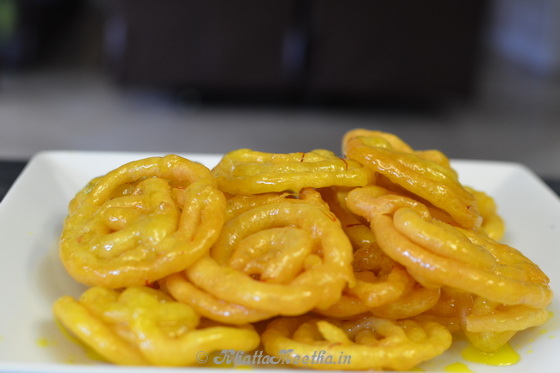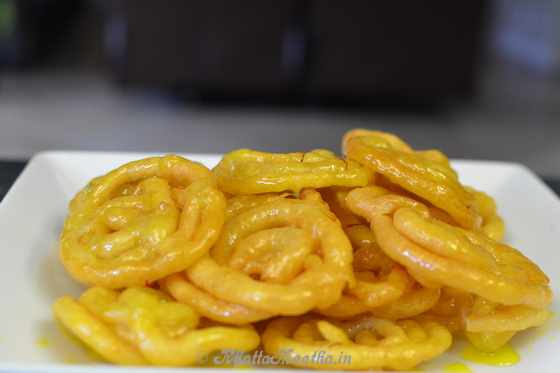 Jalebi
Ingredients
All-Purpose Flour – 1 cup
Cardamom Powder – ⅛ tsp
Rapid Rise Yeast – 1 tsp addedin warm water for 5-10 minutes, until foamy, before adding it to the flour)
Corn Starch – 2 tsp
Oil – 1 tsp
Yogurt – 1 Tbsp
Warm Water – ¾ cup
For Syrup:
Sugar – 1¼ cups
Water – 1 cup
Saffron – pinch
Lemon Juice – 1 tsp
Cardamom Powder – ¼ tsp
Yellow food color - 1 tsp (optional)
Instructions
a mixing bowl, add All-purpose Flour, Cardamom Powder, Rapid Rise Yeast and Corn Starch. Mix thoroughly.
Add Oil, Yogurt and Water and mix well until there are no lumps.
In a larger bowl or pot, add very warm water and place the mixing bowl with the batter inside the larger bowl
Cover the larger bowl and allow the batter to rest for 30 minutes.
After the batter has been resting for 15 minutes, start on the syrup and start to pre-heat oil for frying the jalebi.
Syrup: In a heavy bottom pan, add Water, Sugar and Saffron. Cook for 15 minutes on medium heat or until the temperature reaches 200F/95C.
Reduce flame to a low simmer and add Cardamom Powder, food color and Lemon Juice. Mix.I like my jalebi's bright yellow
Mix the fermented jalebi batter well and put it in a piping bag ( ketchup or mustard bottle, ziplock bag can be used too).
Squeeze out the batter into the hot oil in approximately 8 small circular motions. Jalebi should about 2-3 inches in diameter.
Fry until the bottom side looks golden and flip once to cook the other side.
With tongs, remove jabebi, shake off excess oil and place directly into sugar syrup.
Allow jalebi to remain in the syrup for just a minute (flipping to coat both sides), shake off excess sugar syrup and place onto a plate.NOTE: About mid way through the frying process, turn off the stove for the sugar syrup so that it does not become too thick.
Continue frying remaining jalebis.
Enjoy them hot for optimal taste or allow them to cool and store in a container with a tight fitting lid.
Jalebis will remain fresh for 4-5 days unrefrigerated.