Paneer/ Chicken Pesto Panini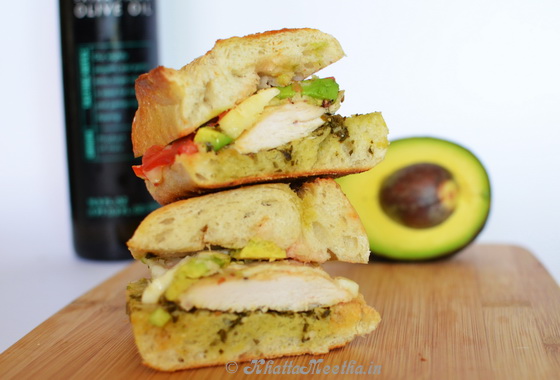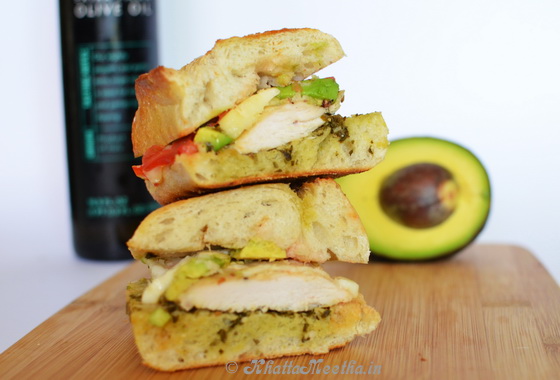 This recipe is a favorite in our home and so easy.! I've even used individual sub rolls and regular sliced bread when I don't have Italian bread, and this recipe is always a hit! If you happen to like more tomatoes and less cheese, go for it. If you want to leave out some of the spices, or add a few more of your own, just do it!
You don't  need a panini press to make a sandwich like this, any sandwich maker or griddle will work just fine. . I highly recommend using a ball of fresh mozzarella rather than packaged sliced mozzarella because the creaminess of the fresh is sooo good.
Panini's make some of the best hot party appetizers around and they are so easy to create. Simply make your favorite panini sandwiches and cut them into bite sized pieces.

Paneer/ chicken Pesto Panini
Ingredients
2 pieces of Artisan bread
1 Avacado, cut in slices
1 whole Tomato, cut in slices
½ cup pesto, homemade or store bought
1 cup mozarella cheese
1 tablespoon olive oil
Grilled tofu/ Chicken/ Paneer (Indian cottage cheese), you can use any filling you like
Instructions
Heat olive oil in a grill pan over medium-high heat.
Spread 2 TBSP pesto over 1 side of French bread and top with mozzarella, chicken/tofu/paneer, tomatoes, avocado and top half of bread; repeat with remaining slices of bread.
Brush with extra Virgin olive oil, and press between the hot plates of a panini grill until the bread is golden and the cheese is melted, about 2-3 minutes per side.
Enjoy !!!!