Sabudana Khichdi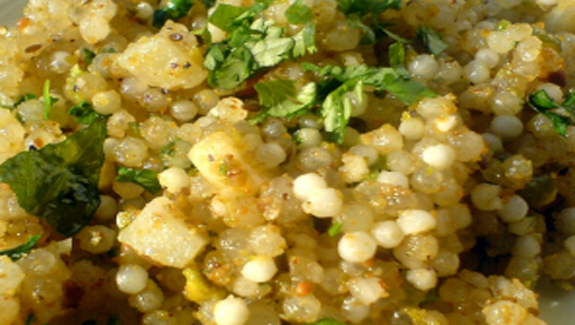 Sabudana khichdi in my house was traditionally made when my mom use to do fasting, as a kid I would wait for everyone to break their fast so I get my share of sabudana khichdi. Absolutely irresistible for me till now. So here is my moms recipe, only diff is I make it atleast once week or whenever I have the craving.
Ingredients
1 cup soaked Sabudana
1/2 – 3/4 cup crushed peanuts
salt to taste
1 small boiled potato, diced
1 tbsp oil
1 tsp grated ginger
1 tsp chopped Green chili
1/2 tsp jeera/cumin seeds
½ tsp mustard seeds
10 curry leaves
1/2 lime squeezed
3-4 whole red chillies
2 tbsp chopped cilantro leaves
Cooking Directions
Wash sabudana nicely,drain water completely and leave for 3 – 4 hrs. After3-4 hrs the sabudana will be spongy.Meanwhile dry roast groundnuts on a pan and powder them coarsely.
Heat oil, add mustard seeds,whole red chillies,cumin seeds, chopped green chillis,grated ginger, curry leaves and potatoes cut into small pieces.When the potatoes are almost done add sabudana and  the peanut gound and mix well.
Keep  on simmer for 5 to 10 minutes till sabudana is cooked. Remove from fire and serve hot garnished with corinder leaves.