Navratan Korma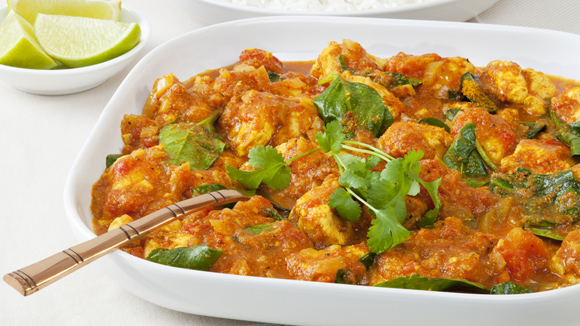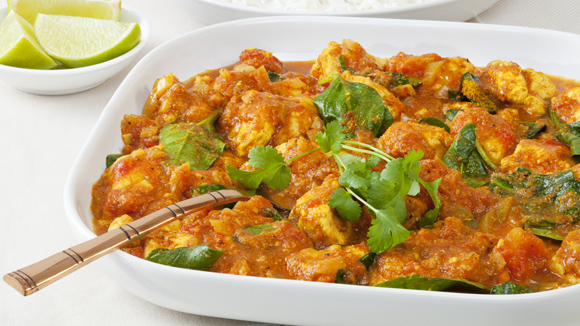 This is an Indian vegetable korma with nuts, paneer cheese, and an adjustable list of vegetables. It is in a tomato-cream sauce as opposed to the usual yogurt based sauce. 'Navratan' means 'nine gems,' so choose nine of the vegetable, nuts, and paneer ingredients; you can leave out the elements you don't want to use, or add them all so it is 'ten gems' if you wish." I love this recipe as it is super easy, also it can be made as rich and fancy as you want. Personally I like my dishes to be light, have to admit though the Cashews and raisins give Navratan korma a different dimension altogether.
Korma–a very old style of curry which can be traced back to the Mughal invasions of India and Pakistan in the early 16th century–is meant to be mild (in most cases…there are exceptions) and is flavored with a combination of nuts and cream (coconut milk in southern part of India).  In some instances they may also have yogurt (the older recipes especially) and be cooked dum-style for a long time over a low heat.
So go ahead and try my twist on this classic recipe, let me know how you like it.

Navratan Korma
Ingredients
2-3 Large Carrots
1½ Cups French beans
11/2 Cups Peas
1½ Cups Paneer cubes
5-6 Cauliflower florets
1 Red bell pepper
1 Green Bell Pepper
1 Large Red Onion (chopped)
½ cup Yogurt
½ Cup Milk (alternately use heavy whipping cream)
1 tablespoon Masala(garlic, ginger and whole garam masala pureed)
2 tablespoon tomato paste(puree)
1 tablespoon Oil
1 inch cinnamon stick
2 teaspoon Cumin Powder
1 teaspoon red chilli powder
1 teaspoon of garam masala
1 teaspoon tumeric powder
1 tablespoon Roasted Cashew nuts
1 tablespoon Raisins
salt to tase
Cilantro (chopped) for garnish
Instructions
Chop all the vegetables in even size
Boil, beans, carrots, and cauliflower florets for 10-12 minutes, so that all the vegetables cook evenly on the cook top
In a pan heat 1 tablespoon of oil, and put cinnamon stick on hot oil and let it crackle
next put some chopped onions, and stir till it starts to turn brown
pour 1 tablespoon of pre-made masala and stir in for few minutes
Next add dry masalas, tumeric, cumin and garam masala to the onion mix
Now add all the veggies to the pan
Give it a good stir so that all the masala is mixed up the veggies
Next pour yogurt and whipping cream on to the veggies, and give it a good stir
Add tomato paste, Cover the pan and let it simmer, till its done.
Garnish with Cashews, raisin and cilantro, serve it with naan, roti or rice !