Palak Paratha (spinach flatbread)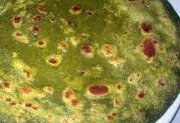 This parantha recipe is for all those parents who struggle to feed the kids spinach. My sons just love the green parantha and ketchup.
Ingredients:
1 cup wheat flour
1 cup chopped spinach
Salt to taste
Oil/ghee
Cooking Directions:
Put the chopped spinach in a vessel and heat it by covering it with a lid. In a few minutes, the spinach will get cooked and greener. Cool and grind it to a fine paste. Add salt to the wheat flour mix well and add the spinach paste to make a soft dough. Add water as required. Keep covered for 15 minutes. Knead again and make balls. Dust with flour and roll into a thick chapati. Spread some ghee and some flour over it and fold it like a handfan in pleats. Then roll it into a round and seal the edge by pressing it in the center
Dust with flour and roll into thick parathas and cook on hot tava with oil/ghee till brown spots appear on both sides.
Serve hot with yogurt, pickle or tomato curry.