Kashmiri Aloo Dum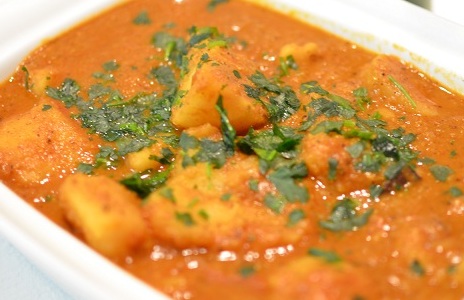 Aloo dum is a kashmiri recipe where potatoes are cooked in yogurt based gravy and spices. Almost every region in India has diff version of aloo dum, personally I like this one the best.
Ingredients:
1/2 lbs.Small potatoes
1 large onion (chopped)
1 tbsp ginger garlic paste
1 tsp coriander seeds
1 tsp cumin seeds
1 tsp turmeric powder
1 tsp garam masala powder
2 red Chilis
1/2 tsp pepper
2 Bay leaves
2 cardamom 2 clove
1 Cinnamon stick
1 cup curd
Salt as required
Oil
Coriander leaves (chopped)
Direction:
Peel the potaoes and cut them in halves, then prick them with toothpick and soak it in salt water for 1 hour. Then sate it in skillet and keep aside ( the traditional recipe calls for deep frying the potatoes however to minimize the oil I prefer saute and its comes out equally good)
Heat oil in a pan and add chopped onion and fry them until golden brown.In the same pan roast coriander seed, cumin seed  and dry red chilis. Grind them into a fine masala paste along with fried onion.
Heat oil in a pan and add bay leaves, cardamom, cinnamon and clove. Fry and add ginger garlic paste and fry again for a couple of minutes. Now add the masala paste and add little water . Stir frequently and cook for about 6 to 8 minutes.
Add yogurt and salt , Stir the gravy for 3 to 4 minutes and then add fried potatoes into it. Add little warm water as required . Cover with a lid and let it cook over low heat for 15 minutes.
Garnish it with cilantro and serve it hot with rice/ Chappati/ parantha.