Bejawada Biryani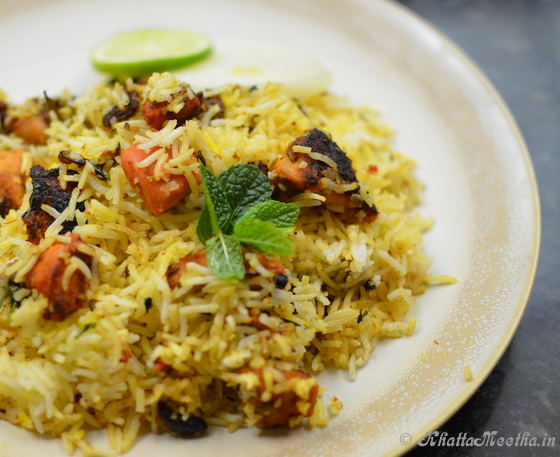 Bejawada biryani is perpetration which is served in a new restaurant which opened here in L.A.Traditionally kachchi gosht ki biryani is prepared with meat marinated with spices overnight and again soaked in yogurt before cooking. The meat is sandwiched between layers of fragrant long-grained basmati rice, and is cooked on dum (steaming over coals), after sealing the handi (vessel) with a layer of dough. This is a challenging process as it requires meticulous attention to time and temperature to avoid over- or under-cooking the meat.
So here is my version of the traditional recipe. This biryani is very delicious and my family loves this recipe. This biryani preparation  is very popular in Hyderabad. Bejawada biryani recipe looks little hard but when you get to it its really simple, and as we use boneless chicken it takes less time to cook too.
Bejawada Biryani
Ingredients
41/2 cups Basmati Rice
2 pounds boneless chicken
1 tablespoon garlic paste
1 tablespoon ginger paste
½ cup plain yogurt
2 tablespoon chicken tikka kabab masala
3 cups basmati rice
2 large red onions (sliced thinly)
1 bunck fresh mint (chopped)
1 bunch fresh cilantro (chopped)
1 pinch of saffron
2 tablespoon of milk
½ cup of veg/ canola oil
11/2 tablespoon Whole garam masala (shah jeera, whole black pepper,cinnamon sticks,green cardamom, large cardamom
4-5 bay leaves
Instructions
Soak the saffron threads in 2 tablespoon of milk and keep aside
Cut the boneless chicken into one inch pieces wash and keep aside
Marinade the chicken with chicken tikka kabab masala and let it sit for 30- 45 mins in refrigerator
While the chicken is marinating cook the rice, cook 4 cups of rice in 51/2 cups of water. Rice is to be ¾th done as it will cook again with the chicken.
Heat 2 tablespoon of oil in a pan and sauté the marinated chicken pieces for 5-6 minutes in medium heat, till you get the crispy layer on the chicken
Heat 1 tablespoon of oil in a pan when the oil is ready add the sabut (whole) garam masala and let it crackle
Add thinly sliced onions to the whole spices and sauté it till the onions changes color.
Next add any biryani masala you like and add 1-2 tablespoon of water for the masala to mix with onions.
Then add the chicken pieces to the onion mix and cook for 5 minutes, switch off the stove and prepare to layer the biryani
In a thick bottom pan spread a layer on plain rice and sprinkle chopped mint and cilantro (you can use any utensil you want pressure cooker/ rice cooker/ heavy bottom pan)
Next spread a layer of chicken on top of the rice
Again a layer of rice
Sprinkle chopped mint and cilantro
Then add another layer of chicken, keep repeating the layers till you finish all your rice and chicken curry.
pour the saffron and milk mix on top of the last layer of rice.
Now let it look in simmer for 20 minutes.
Serve hot with raita. Enjoy!!!