Coconut Burfi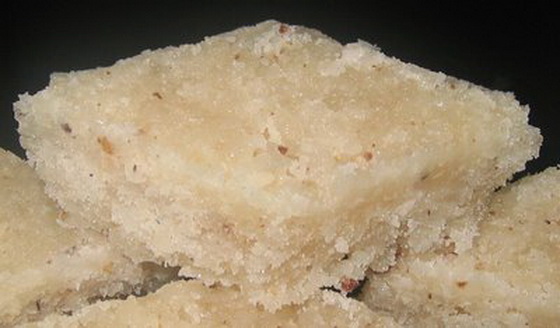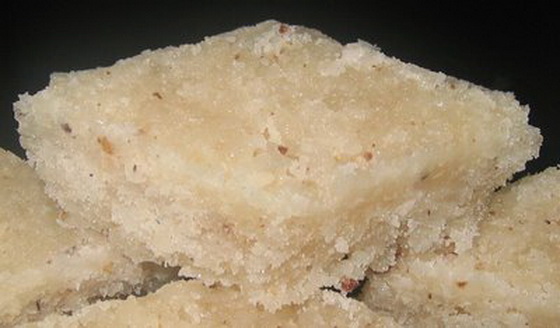 Coconut Burfi or Nariyal Burfi is one delicious and easysweet perfect for any occasion or festival. This coconut burfi is very easy to prepare in less time and it taste just delicious.   Festival Season  in full swing now with Karwachauth and Diwaliaround this coconut burfi can be very handy recipe. Made with minimal ingredients it's a treat, just not for festival we can prepare this for kids snacks box or to satisfy some sweet craving.
I normally make more of coconut ladoo which is another easy, no-cook recipe made with only 2 ingredients desiccated coconut and condensed milk, just melt in mouth ladoo and this coconut (nariyal) burfi my mom used to make for every Diwali other festivals, birthday etc.  I made this after long time for a change from my usual coconut ladoo. You can try this easy burfi for Karwa Chauth or Diwali.
If you look for easy sweet recipes which can be done in jiffy than this is for you specially during Diwali when we are busy with preparing so many other things. This coconut burfi stays good for almost a week so you can prepare in advance and keep it or you can store this burfi in fridge too. This coconut burfi are pure white since the brown part of coconut skin is not used, so you have to grate coconut taking care of that if not the burfi won't be in white color like this.
NOTE:
Note on Fresh Shredded Coconut: Please shred only the white part of the coconut meat being careful not to scrape out the brown outer skin, (Alternately you can also use dry shredded coconut you get in stores). The brown part is hard and does not give a smooth mouth feel for the burfi. So spend time to get rid of the brown skin.

Coconut Burfi
Ingredients
Shredded Coconut - 3 Cups
Whole Milk - 4 Cups
Sugar - 2 Cups (if you more sweet add ½ cup more)
Chopped Pistachios (optional)
Instructions
Take a wide pan and add in the milk, sugar and fresh shredded coconut.
Keep the pan on stove and start stirring on medium flame.
If the milk boils over, try to reduce the flame to low for a couple of minutes and increase the flame again. Keep stirring.
It will start to bubble up after 15 minutes. The mixture will be watery at this moment. If at any point of time, the milk boils over, try to reduce the flame to low for a couple of minutes and increase the flame again.
After 30 minutes, add in the ghee and continue to stir.
The mixture will slowly start to thicken up.
Lot of patience. Lot of patience. Remember, good things take time.
After 45 minutes, the mixture would start drying up. It will be gooey at this stage.
After one hour, the mixture would have dried considerably and there would not be any liquid left. It will be like the consistency of wet sand. Switch off the flame.
Apply ghee to a quarter sheet pan and dump the hot coconut burfi mixture on the sheet pan and spread it evenly with a spatula. Allow it to cool for one hour.
Mark with a knife and gently remove each piece to a serving plate or a storage container.
The burfi will keep in the refrigerator for up-to a week. Serve cold or at room temperature. You can sprinkle finely shredded pistachios as a garnish.