Almond Cookies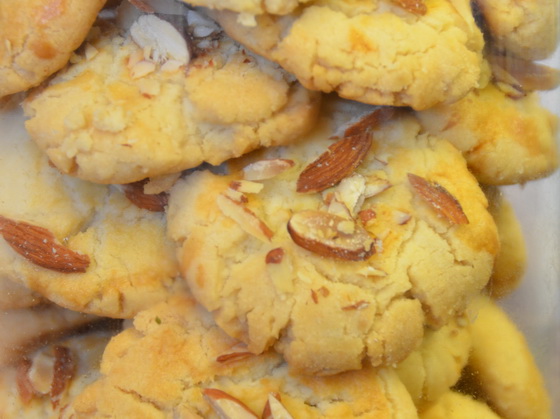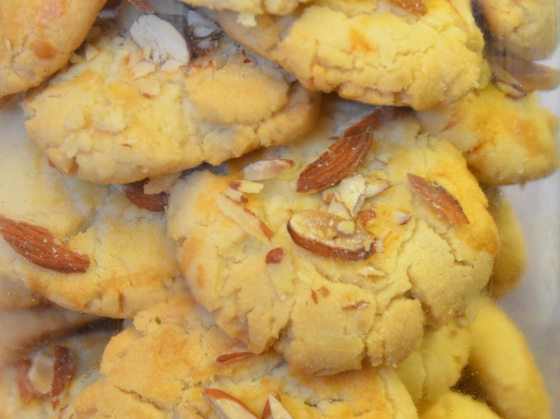 My girlfriend introduced me to these delicious treats. And ever since then I have been hooked to these. Almond cookies are so easy to make . Â I love almonds and almond extract! My 9-year-old son and I just finished them, and they are TO-DIE-FOR!!! Melt in your mouth! Â My boys had so much fun helping to roll the balls and put the almonds and glaze on.
Since it is festive season I decided to make Almond cookies along with my other sweet treats which I make every year for Diwali. And since it was for Diwali I did not use the egg wash, it came out really good too. Personally I like egg wash as it gives a nice texture on top of the cookies.

Almond Cookies
Ingredients
1-â…" cup All-purpose Flour
¼ teaspoons Salt
½ cups Butter, Softened
â…" cups Extra Light Olive Oil Or Vegetable Oil
â…" cups Sugar
â…" cups Gound Almonds
1 teaspoon Almond Extract
1 whole Egg Beaten With 2 Tablespoons Water For Egg Wash
½ cups Chopped Almonds Or Any Choice Of Nuts For Garnish
Instructions
Heat oven to 325°F.
In a bowl, mix flour and salt (dry ingredients).
Using a large bowl, cream butter, oil, sugar, ground almonds and almond extract till smooth.
With an electric mixer on low speed, add dry ingredients little by little into the wet ingredients.
the dough will look crumbly like this
Shape dough into balls using a tablespoon measurement and press it flat a little.
Place cookie dough on a slightly greased cookie sheet.Make thumbprints by gently applying pressure on the dough balls. Apply some egg wash.(optional)
Sprinkle nuts or any decorative edibles on the cookies.
Bake 20 to 22 minutes or until the bottoms have browned.
Place the cookies onto a cooling rack and allow them to completely cool.