Almond Blueberry and Lemon Cake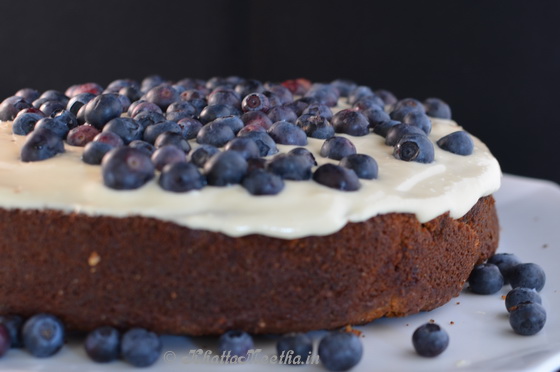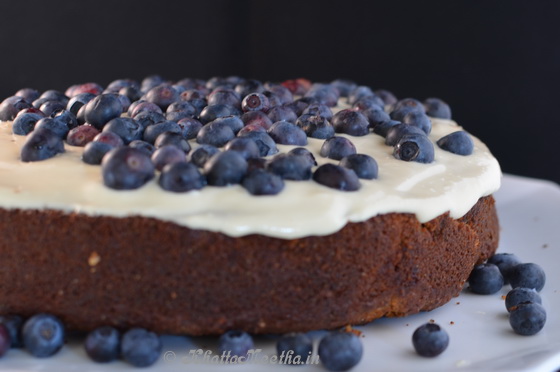 Happy thanksgiving !!! Today for thanksgiving dinner I am making Almond Blueberry and Lemon cake. My parents are in town and my mom is diabetic so I wanted her to enjoy the cake guilt free. .It's lovely for afternoon tea or a  holiday dessert. Almond Blueberries and lemon cake with a poppy seeds is just a beautiful marriage of flavors.This is such a delicious recipe definitely for those of us who like light sweet desserts.The ground almonds in this zingy lemon cake give it a beautiful texture – you'll love it . I have used just used a bit of honey to sweeten the cakes. I've been trying so hard to reduce the amount of sugar we use in regular desserts.You can make this cake with endless variations,  blueberries, blackberries or strawberries and for the flour you could either use almond flour, spelt flour or regular all purpose flour, for sweetener you can use honey or regular cane sugar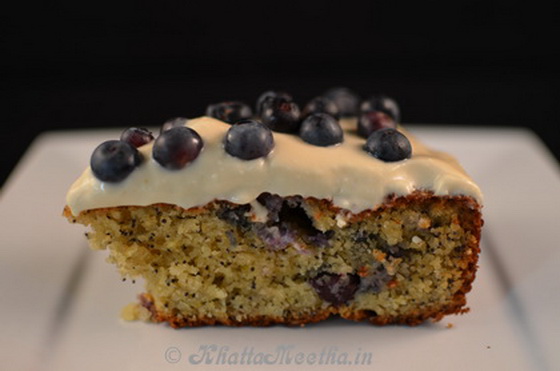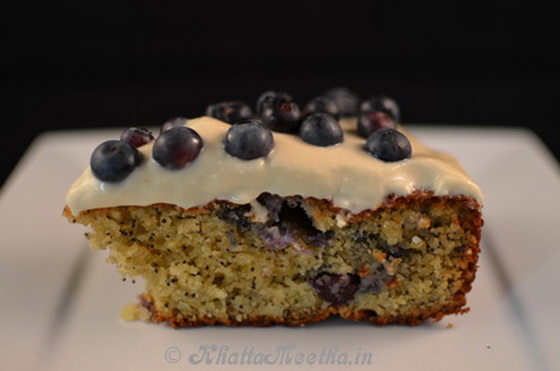 Almond blueberry and lemon cake
Ingredients
For Cake
4 cups (400 g) almond flour
3 tbsp poppy seeds
½ tsp salt
1 tsp baking powder
½ tsp baking soda
½ cup (120 ml) grape seed oil/coconut oil/rapeseed oil
½ cup (120 ml) honey or maple syrup
2 small organic lemons
3 large eggs (replace with3 tbs chia seeds* if you are vegan)
2 cups (300 g) blueberries (save half for topping)
Glazing
1 cup/240 ml (use vegan cream cheese if you are vegan)
2 tbsp honey or maple syrup
1 tsp vanilla extract
Instructions
Preheat oven to 350°F / 180°C.Get all the ingredients
Combine almond flour, poppy seeds, salt, baking powder and baking soda in a large bowl and set aside.
Heat oil and honey in a sauce pan on very low heat until combined.
Grate the zest from the 2 lemons and add it to the honey/oil batter.
Divide them in half and squeeze the juice from three of the halves into the mixture, saving one half for the glazing.
Beat the eggs and to the honey and oil mixture
beat until all the liguid ingredients are well incopoated
Add the batter to the bowl with the dry ingredients.
fold them into the batter together with 1 cup of the blueberries.
Stir gently around with a wooden spoon until combined.
Grease a 8-inch spring form cake tin, and add the batter to it.
flaten the cake mix glently with a spatula
Bake for about 30-40 minutes (depending on size of the pan and oven), or until golden on the outside and baked all way through (you can cover the cake with tin foil during the last 15 minutes of the baking time, if it starts looking burned) .
Remove from oven and let cool for at least 30 minutes before removing the sides.
Meanwhile, start making the glazing,Add cream cheese honey and vanilla extract and remaining lemon half.
Beat in until the icing becomes light and creamy.Leave to chill in the fridge.
When the cake has cooled completely, cover it with glazing,
top with the remaining blueberries and serve.
You could also just serve the cake with blueberries and yogurt on the side.
NOTE* You can replace three eggs with 3 tbsp chia seeds and 9 tbsp water that you combine and let sit for 15 minutes.