Vegetable Puffs/ Patties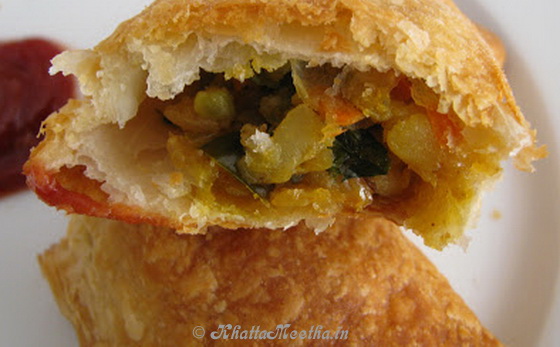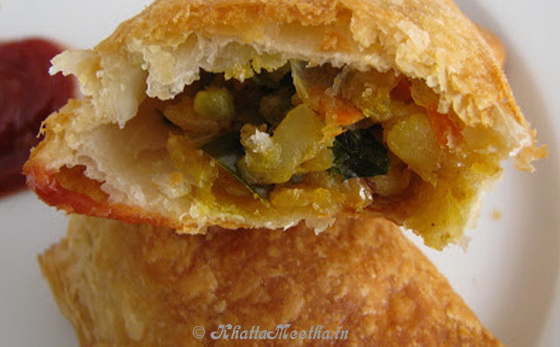 Vegetable Puffs are a wonderful snack option for the days that you want something substantial and you can't wait very long for it to be made!! Vegetable puffs are amazing crispy and crunchy puff pastry filled with different types of flavorful vegetarian fillings.  You can make any of your favorite filling and stuff in pastry sheets and bake and enjoy homemade puffs/ Patties. You can buy the puff pastry sheets from store and its super easy to make these mouth- watering recipe.
These College-Canteen favorites are wonderful and the will take you back to the nostalgic 'college days'. Relive the memories, at least the good parts with this easy recipe!
NOTE : You can try variety of filling for your puffs, Cheese puffs, maggi puffs, pizza puffs, tikka puffs, chicken puffs, and egg puffs.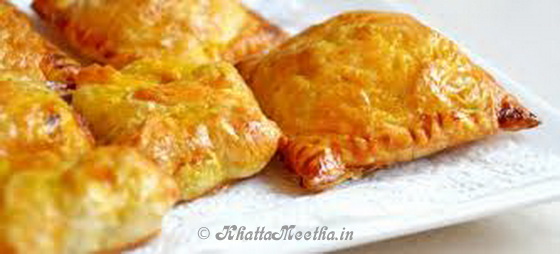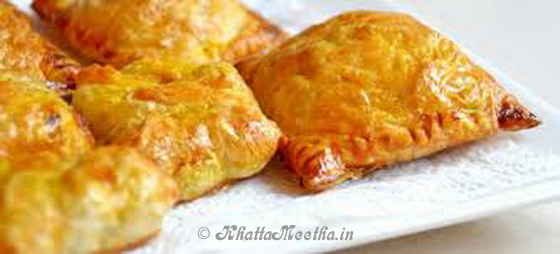 Vegetable Puffs
Ingredients
Puff Pastry Sheets – 1 box (from the frozen section of a grocery store)
For the Stuffing:
Oil – 1 tsp
Onions – ¼ small, finely chopped
Potato – 2 large mashed
Salt – to taste
Carrots& Peas – 1cup (frozen)
Cumin Powder – ¼ tsp
Coriander Powder – ½ tsp
Turmeric powder – ⅛ tsp
Chaat Masala – ¼ tsp
Dry Mango Powder (Amchur) – ¼ tsp
Red Chili Powder – to taste
Instructions
Take the sheets of Puff Pastry out and thaw them at room temperature for about 40 minutes.
Pre-heat the Oven at 400 degrees Fahrenheit.
Now for the stuffing, take a small skillet and heat Oil on medium heat. Once hot, add in the Onions and saute till they turn translucent.
Add in the Potatoes and a little salt. Mix well, cover and cook for 2-3 minutes till the Potatoes are cooked.
Add in the Carrots and peas, Mix well
Add in the spices – Cumin Powder, Coriander Powder, Turmeric Powder, Chaat Masala, Dry Mango Powder and Red Chili Powder.Mix really well and keep aside.
Cut the Pastry sheets strips to form a square.
Put 1 tbsp (approx) of the stuffing in the center.
Fold the Pastry Sheet to make a rectangle.
Use a fork and gently, but firmly, press into the sides and press away (to form a design and help seal)
Put the Puffs on a cookie sheet lined with foil.
Place in the pre-heated oven at 400 degrees F for 15 minutes.
Once they are out of the oven, transfer them to a cooling rack and allow them to rest and cool down for 5 minutes.
Serve with chutney or ketchup.