Quinoa Salad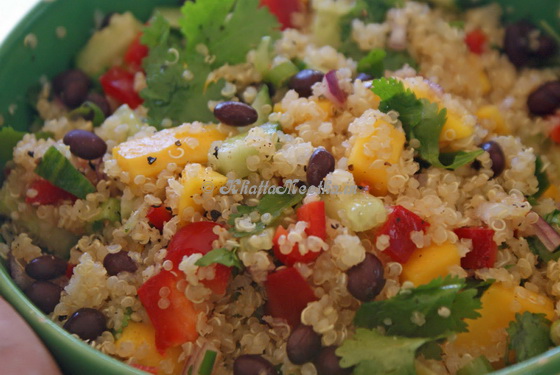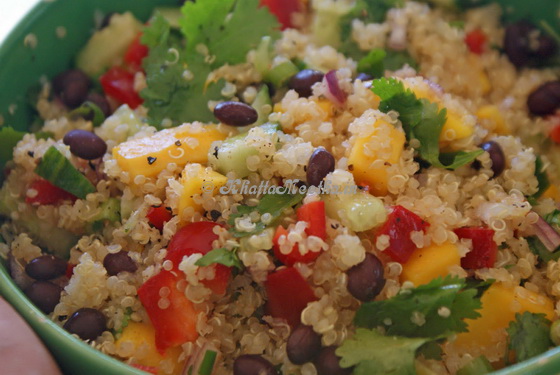 Love the flavors in this gorgeous quinoa salad. This bright and colorful salad is a great summertime recipe (or anytime you want to feel like it's summertime). Light and citrusy, it's a whole new way to enjoy quinoa. Lime juice and cilantro give a refreshing kick, while quinoa and black beans provide tasty vegan protein.This fluffy, crunchy, gluten-free whole grain salad made with high protein quinoa (keen-wah) is delicious as well as nutritious. Serve chilled or room temperature, Its great for lunch and dinner in the heat of summer or anytime. Serve with chicken, fish, or by itself as a vegetarian dish. I had a bowl this afternoon for lunch topped with diced avocado. 
Preparing the Quinoa salad is super easy and this salad has endless possibilities. You can add Edamame, feta cheese, baby tomatoes, parsley, Cliantro, radish, dill, avacados to name few.you have only heard of quinoa (keen-wah) but never cooked with it, you have got to add this powerhouse to your pantry. Its been grown for thousands of years at high elevation in the Andes. This ancient supergrain is what fueled the Inca Indians of Peru, and it can fuel your family too.
Nutrition-packed Quinoa
Quinoa is light and easy to digest and is packed with protein and fiber. Its also considered a complete protein, which means it provides all of the essential amino acids our bodies need. This is one healthy grain that needs to be in your pantry and in your diet.
Quinoa Salad
Ingredients
2 cups Quinoa
1½ cups canned black beans
½ cup chopped fresh cilantro
4 spring onions (chopped)
2-3 jalapenos
1 red pepper
¼ cup olive oil
½ cup lemon juice
1 teaspoon of cumin powder
½ teaspoon Salt
teaspoon of cumin powder
/2 teaspoon of alt
Instructions
Cook 2 cups Quinoa in 3 cups of water (11/2 cup of water for every cup of quinoa), boil for 15 minutes, check if it is fluff then its done. Check for cooking instruction http://khattameetha.com/vegeterian/quinoa-pulao-fried-rice

Chop red and yellow bell peppers(capsicum), spring onions, cilantro and jalapenos and keep aside.

Toss the corns and black beans(rinse the beans if you are using the canned one) in quinoa, then add all the chopped veggies.

Add fresh lemon juice and olive oil. Season the salad with salt and cumin powder. Your salad is ready .