Oven Roasted Tomato Salsa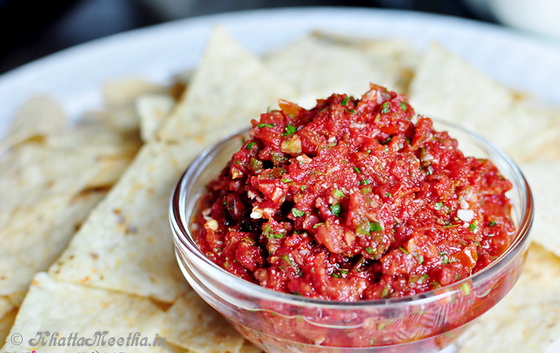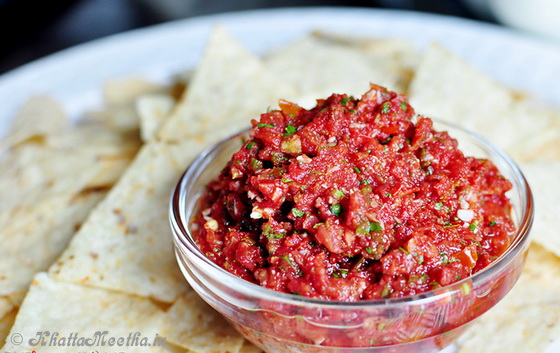 Oven Roasted Tomato Salsa dip is like heaven in bowl. The sweet and smoky flavors of slow roasted tomatoes make this salsa something special. A little time under the broiler intensifies the aroma and flavors of the tomatoes, jalapenos, onion, and garlic here, adding a rich, smoky flavor to this salsa.
It is tomato season and seeing the fresh tomatoes in the super market I thought of taking up the challenge of making homemade roasted tomato salsa, usually I make my salsa with can of Rotel tomatoes, I am glad that I tried his recipe. My family and friends all love it. I hope you do too.
By roasting the tomatoes in the oven, it concentrates the flavor and adds a different layer to the salsa. It's still easy to make but it does use a good amount of fresh tomatoes (they shrink through the roasting process) and you need to wait about an hour for them to get their roast on in the oven.
NOTE :Â The salsa can be kept in the fridge for about a week and actually tastes even better the day after you make it.

Oven Roasted Tomato Salsa
Ingredients
4 pounds plum tomatoes, cut in half, seeds removed
1 large jalapeno pepper, sliced in half
olive oil
kosher salt
black pepper
½ small yellow onion, quartered
2 scallions
2 large garlic cloves
1-2 small serrano chile peppers, seeds removed (depending on your preferred heat level)
1 teaspoon cumin powder
¼ teaspoon chilli powder (optional)
2 pinches sugar
zest of one lime
1 tablespoon fresh lime juice
½ bunch cilantro (about 1½ cups)
Instructions
Preheat the oven to 350 degrees F.
Place the tomatoes and jalapeno in a single layer, cut side up, on baking sheets. Drizzle olive oil over them and sprinkle with kosher salt and black pepper. Roast for 60-70 minutes
when the tomatoes have become slightly browned and shriveled.Allow them to cool until room temperature.
Put the roasted tomatoes, jalapenos, ½ teaspoon of kosher salt and the remaining ingredients into the bowl of a food processor.
Pulse until desired consistency. Taste the salsa and add more kosher salt and black pepper as needed. The flavors will intensify as the salsa flavors marry.
Pour the salsa into a container and refrigerate for a few hours before serving.