Dhokla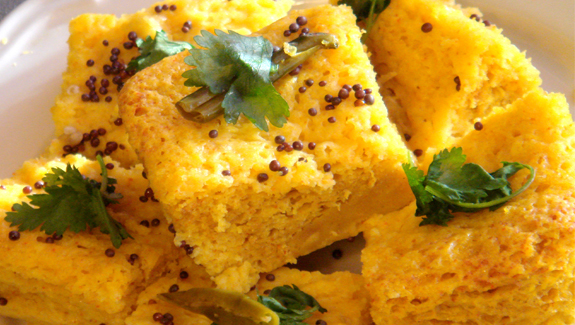 Dhoklas are steamed gram flour cakes, a famous Gujarati  Snack.  Made from gram flour and seasoned with the choicest ingredients makes it a delicacy.
Ingredients
1 cup gram flour/besan
1/4 cup yogurt
1/2 cup water
1 teaspoon green chilli
1/2 teaspoon ginger paste
2 tablespoon oil
1 teaspoon Eno fruit salt
Salt to taste
 Seasoning
1/2 teaspoon mustard seeds
1 teaspoon sesame seeds
4 -Â  5 Curry leaves
1.5 tablespoons sugar
1 tablespoon lemon juice
1 tablespoon of freshly grated coconut
1 tablespoon of freshly chopped coriander leaves
1 tablespoon of oil
4 tablespoons of water
Salt to taste (there is salt in dhokla as well, so just be careful to the amount of salt you add)
Cooking Direction
Whisk together all the ingredients for the dhokla. It should be a thick batter that goes drip drip drip from the spatula rather than of a pouring consistency.
Prepare a steamer, preferably a dhokla or an idli steamer with 3 cups water at its bottom. Grease the dhokla thali's/plates with oil. Pour the dokhla batter to each plate, such that they fill only half the height of the plate.
Steam for about 12 – 15 minutes on high with lid covered. Turn off heat and allow it to rest for 5 minutes in the steamer with lid opened.
Take out the dholka plates from the steamer and cut them into square or diamond pieces. Arrange them on a serving platter.
For Seasoning
Heat oil in a small pan; add mustard seeds, sesame seeds and curry leaves. Allow them to crackle. Turn off the heat.
Add the water, sugar, salt, lemon juice to the above seasoning.
Using a small quarter spoon, evenly sprinkle over the cut dhokla pieces.
Garnish with coriander leaves and coconut and serve warm or cold. Seved with clilantro chutney (dip)