Dahi Vada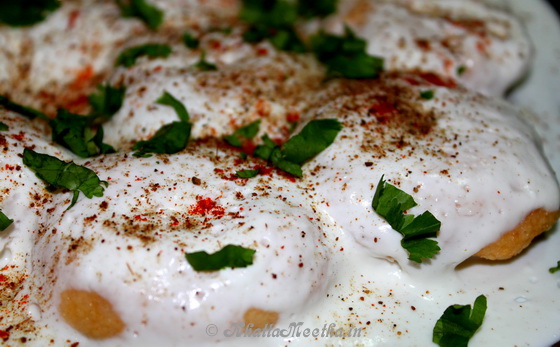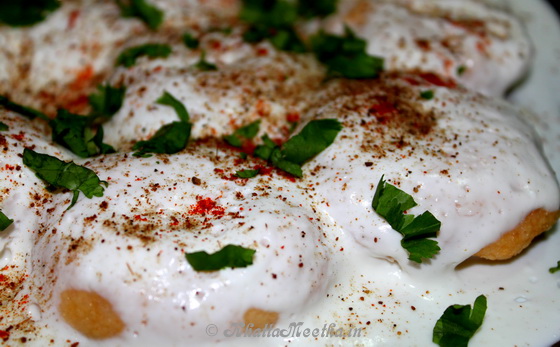 Dahi Vadas are lentil dumplings topped with a spicy savory yogurt and tamarind chutney. These are great as a side dish for a formal dinner or served as a chaat. Dahi vada are made using wash urad dal or moong dal or with a combination of both dals (lentils)using different proportions of dal. Dahi vada is a popular street food in North India. It is also known as Dahi Bhalla, it can be served as appetizer or with the main course. It tastes best when served chilled. It is ideal to serve for parties as it can be prepared day before and stored in refrigerator. Dahi Vada is a sure crowd pleasing  recipe.
NOTE : You can make the dahi vadas in advance and freeze them before soaking in water. When ready to use, soak as many as needed in hot water for about half an hour, then change the water to room temperature and soak for another ten minutes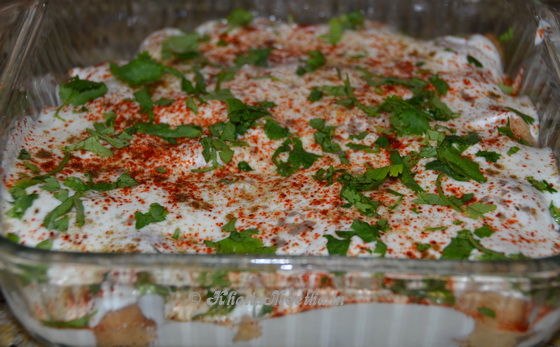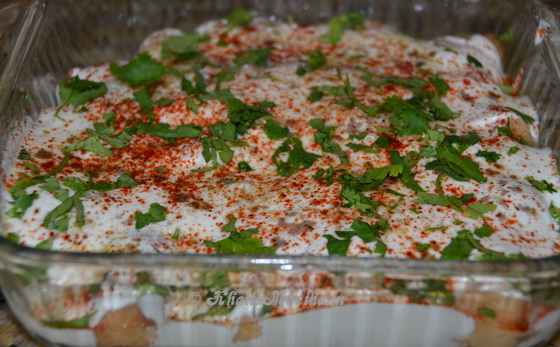 Dahi Vada
Ingredients
For Vadas
1 Cup urad dal washed, soaked for 3 hours and ground to a fine paste adding very little water
¼th Cup mung dal soaked in water
2 inch piece of ginger grated
2-3 green chillis finely chopped
salt to taste
oil for deep frying
For Garnish
2 cups thick fresh curd (take care the curd isn't sour)
4 cups water
red chilli powder to taste
2 tbsps cumin seeds (slightly dr roasted and ground to a fine powder)
1-2 tbsps chaat masala (optional)
chopped coriander leaves to garnish
Instructions
Soak the urad and mung dal in water for 3-4 hours.Wash and drain the dals.
Add the urad dal and mung dal in the blender
add ginger and green chilliesand grind to lentils to a smooth paste in a blender.
Whip the dal batter, stirring with a whisk in a circular motion for few minutes, until batter is light and fluffy. Add a few spoonfuls of water as needed
Wet your hands and take 2 tbsp of the batter on your palm or on a sheet of wet plastic and shape into a circle of 75 mm. (3inch) diameter.or just make it like pakoras to cut time
Deep fry in hot oil on a slow flame till the vadas are golden brown, for about 10 minutes. Drain on absorbent paper and keep aside.
Soak the deep fried vadas in warm water for about 45 minutes.
Just before serving, drain and squeeze out the excess water.
Arrange the vadas on a serving dish and top with the whisked curds.
Garnish with the chilli powder, cumin seeds powder and salt
serve with Imli (tamarind) ki and dhania chutney.