Aatte ke Ladoo (Wheat flour and nuts sweet balls)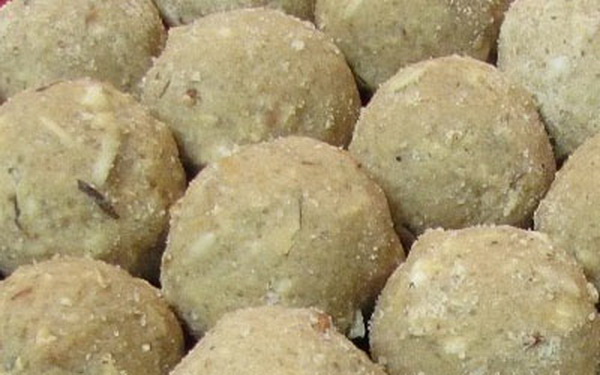 Ladoos is one of my favorite, my mom makes amazing Ladoo. Everytime she is here she makes them for us, so when a friend requested me to make Aatte ke Ladoos, I was more than eager too make since I was out of Ladoo. I have followed moms recipe and added gond which gives a nice crunch to the ladoos which I love:). Gond is not required ingredient so if you want you can make them without too. Aate ke Ladoo is healthy and instant, kids really love these Ladoos . I use these ladoos in alternative of protien bars, after my runs I take one Ladoo and it replenishes my energy. I prefer my boys eat Ladoo with milk rather than the cookies which have zero nutritional value
Note : Ladoos can be stored in an air tight container at room temperature for a month and refrigerated for 2-3 month.

Aatte ke Ladoo
Ingredients
2 Cups Whole wheat flour
1 cup Sugar
1cup Almonds (coarsely ground)
½ cup Edible gum (Gond)
1 Cup Ghee (clarified butter)
Instructions
Heat 2 tablespoon o ghee
Now add whole wheat flour to the pan and start roasting it, Its very important that atta is roasted in even heat and thoroughly. Keep stirring as wheat flour burns very fast.
Take almonds and coarsely grind it in the blender.
Heat ghee in a pan and fry the gond
( the gond doubles the size after frying) and keep it aside to cool.
Grind the fried gum in a blender and keep aside
Once the atta has changed color and you can smell the aroma of the roasted flour add almond and gond mixture to the pan and cook for 4-5 minutes
Switch the burner off and let the atta and nuts mixture cool
Once the mixture is warm and you are able to hold in hand add sugar and remaining ghee and start making ladoo
Take one tablespoon of mixture in your palm and and start to press to shape it in a form of ball.
Delicious Ladoos are ready!