Aloo Gobhi Matar (Cauliflower, Potatoes and Peas curry)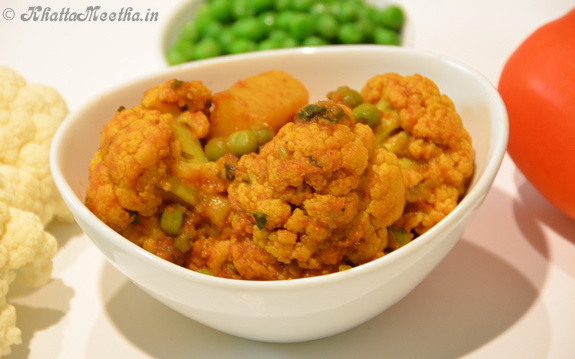 Aloo Gobhi Matar is made of potatoes, cauliflower and green peas mixed with the spices. This recipe is easy to make and tastes great.
Ingredients
1 Cauliflower florets
2 Potatoes
2 tablespoon Tomato Puree/ Paste
1 tablespoon ginger grated
2 green chillies (optional)
1 Cup Green Peas
3 bay leaves
1 teaspoon turmeric powder (haldi)
1 teaspoon Cumin Powder(jeera)
2 teaspoon Cumin Seeds
1 teaspoon coriander powder
2 teaspoon Oil
Cilantro chopped for garnish.
Coking Directions
In a pan boil water with 1 teaspoon turmeric and 1 teaspoon salt, and then add cauliflower florets and Potatoes cubes, boil for 5 minutes, drain and set it aside. (Traditionally recipe calls for frying however to reduce the use of oil I prefer boiling).In a blender take ginger, cumin seeds and green chillies make a smooth paste.
In a large skillet heat oil then add bay leaves and the ginger paste, sauté it for 3-4 minutes.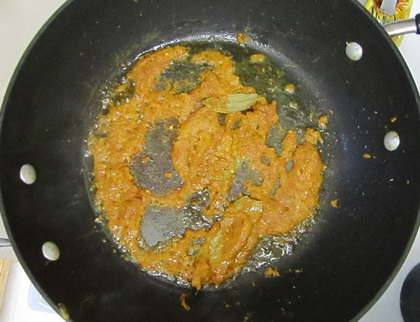 Add potatoes, peas and cauliflower to the pan, add cumin, coriander, turmeric powder mix a few tablespoons of water and cover the pan and let it simmer for 15 minutes.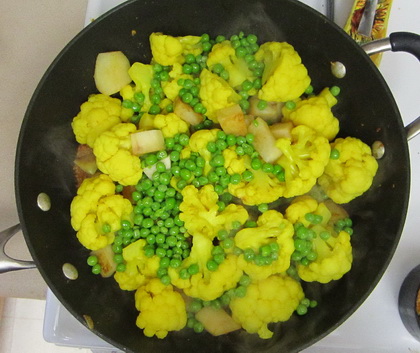 Lastly add tomato paste to the pan, make sure that cauliflower and potatoes are coated evenly with the sauce, simmer for 5 minutes,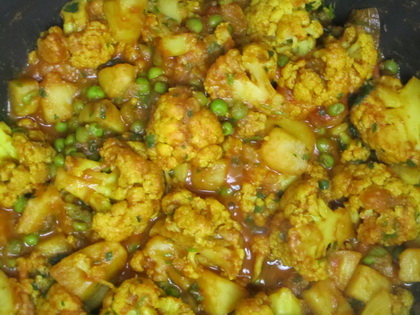 Garnish with cilantro and serve hot with Roti or Rice.
Enjoy