Garlic Naan

Naan is a leavened, oven-baked flatbread. Originally, naan  is a generic term for various flatbreads from different parts of the world. It is served with curries and rice.
Ingredients
1 tsp package active dry yeast
1 cup warm water
1 tsp sugar
2 tbs yogurt
1 teaspoons salt
4 1/2 cups All purpose flour
2 tsp minced garlic
1/4 cup butter, so spread on naan
2 tbs chopped cilantro
2 tbs oil
Cooking Directions
Dissolve active dry yeast and sugar in lukewarm water and set aside until it becomes frothy 10-15 mins
Add some salt, oil and yogurt with the all-purpose flour and mix well.  Next add the water/yeast mixture little by little to the flour and knead it. Knead until you get a very soft dough.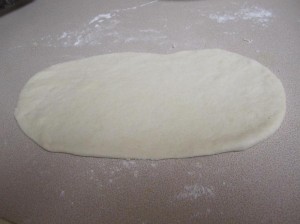 Preheat the oven to the 350 F.
If you have a pizza stone preheat the stone also for half an hour. If not you can use a normal baking tray. Divide the dough into small  balls. Roll it out into oval shape using rolling pin, then put garlic and cilantro on the rolled naan and put in the owen for 5mins.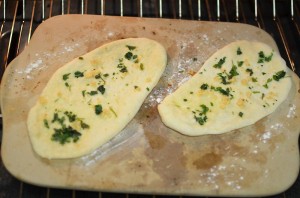 Serve it hot with curry.