Dhania (Cilantro) Egg Curry
This recipe was shared by my friend Sanchari, thanks so much, we relished it :). Recipe is named Dhania Egg Curry as the eggs are cooked in cilantro paste and other spices.  Try it out this is very different from the traditional egg curry.
Ingredients
Garlic – 1 clove
Ginger – 1/2 inch piece
Green Chilies – 2-3 (optional)
Fresh Cilantro – 2 bunches (for base of the gravy)
Water 1/4 cup
Grind all of them to finely coarse paste in the blender.Keep aside.
8 Hard boiled eggs
1 Medium size onions, Â finely chopped or blender
1-2 tomatoes  coarsely chopped
2 Green Chillies(optional)
2 tsp Ginger-garlic paste
1 tspRed chili powder
1 tsp Cumin Seeds
1tsp Cumin powder
1tsp Coriander powder (roasted and ground for authentic taste)
1/4 tsp garam masala powder
1 tbs Oil
Salt to taste
Cooking Directions:
Boil the eggs and shell them.Smear the eggs wid half teaspoon turmeric powder & then saute the eggs in a 1tsp oil in a pan,till they get coated with the turmeric powder and get a light brown color on the outside then set it aside.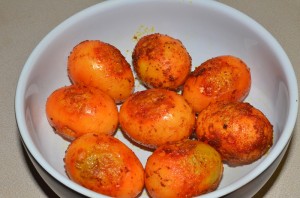 Heat thh, add cumin seed.sauté for a few seconds and add the chopped red onion. saute the onions till they get lightly browned.
Now add the ginger-garlic paste,red chili, a lil turmeric powder,cumin and coriander powder,Green chillies.Fry till the masala separates from the oil.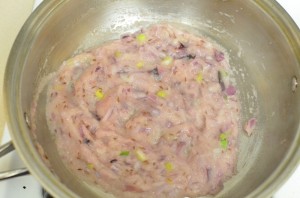 Now add the cilantro paste & coarsely chopped tomato. Mash the tomatoes with the back of your spatula to release all its juices. Cook till the raw taste of the ingredients is gone & the color of the cilantro darkens.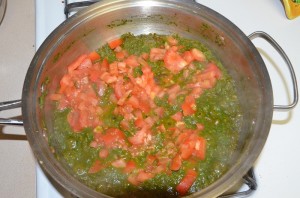 Add the fried eggs. Add water depending upon the consistency you want and cook till done.The consistency will be thick. Add salt & garam masala powder.Cover and cook on low heat.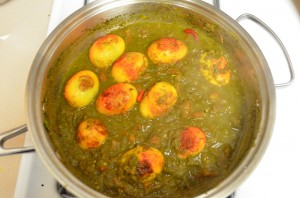 serve it with Rice,chappatis or Parathas!!!!!