Baingan Kara (Spicy Eggplant Curry)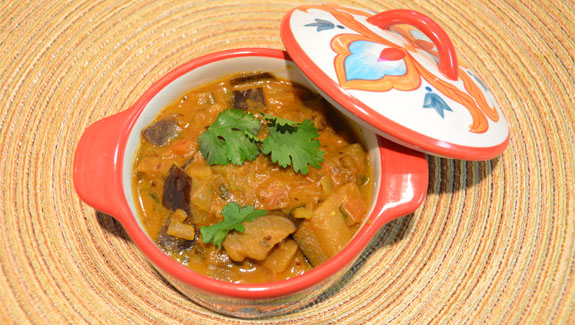 Baingan kara is a Southern Indian recipe, which means spicy eggplant. There is little story about this recipe i wanted to share, My husband is a big time fan of eggplant. And there is a very good Indian restaurant which serves this recipe. Every time he goes there he orders Baingan kara so after trying it once myself, I started to try diff variation, and atlast after hit and try attempts I finally got it 🙂
Ingredients
Eggplant – 1 pound (baingan 500 grams)
1 Onion chopped
1 tbs minced garlic
Tomato-2 chopped fine
1 tsp turmeric powder
2 tsp Coriander powder
1 tsp Mustard seeds
1 tsp Cumin seeds
¼ tsp Asafoetida ( Hing)
Curry leaves
Red chilli (dry) Â 3-4
1 tsp fenugreek seeds
1 tsp fennel seeds
Oil-2 tbs
Tamarind paste  2tsp
Salt to taste
Cilantro  (garnish)
1/2 tsp Sambhar powder(optional)
Cooking Direction
Cut the Eggplant (baigan into small pieces and set it aside dipped in water)
Heat oil in the pan, add mustard seeds, cumin, fennel, fenugreek, as they start to crackle add whole red chillies and curry leaves.Add galic and onion and saute, till it onion becomes translucent.
Add turmeric and coriander powder and let it simmer for for 1-2 mins Tomatoes and tamarind to the spices. Add the eggplant and (baingan) and let it simmer for 20- 25 mins.
When the eggplant is cooked garnish it with cilantro . And serve it hot with rice.