Singapore Chowmein (Rice Noodles)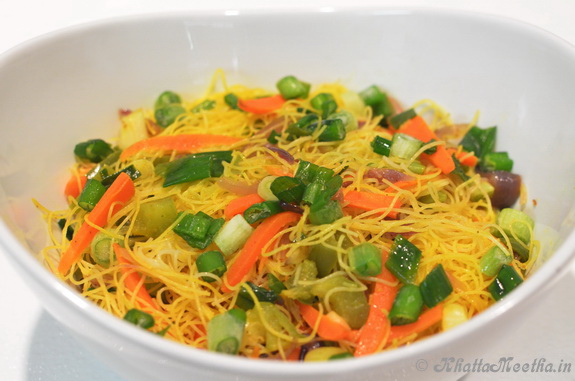 Rice noodles and vegetables flavored with curry powder and soya sauce make this oriental dish irresistible. Rice noodles are very delicate and require practically no cooking. All you need to do is dunk them in hot water for a few minutes and then drain out the water and use them.
Ingredients
2 cups Rice noodles
1/4 chopped onions
1/4 carrots
1/4 capsicum
1/4 mung spouts
1/2 teaspoon ginger
1/2 teaspoon garlic
1 teaspoon soy sauce
1 teaspoon curry powder
1 teaspoon salt
1/4 cup chopped spring onions
a pinch of turmeric powder
pinch of sugar
Cooking Directions
Microwave 2 cups of water in a microwave safe bowl, along with the turmeric powder on high for 2 minutes.
Add the noodles and keep aside for 10 minutes till they are soft. Drain out all the excess water.
In another microwave safe bowl, combine the oil, onions, garlic, ginger and celery and microwave on high for 30 seconds.
Add the carrots and capsicum and microwave on high for 1 more minute.
Add the noodles, bean sprouts, curry powder, turmeric powder, soya sauce, sugar and salt and pepper and mix well. Microwave on high for 1 more minute.
Serve hot garnished with the chopped spring onion greens.
NOTE: To make an easy substitute for curry powder, combine 1 teaspoon of dhania-jeera powder with a pinch of sambar powder and add it to this recipe.