Tandoori Gobhi ( Whole baked Cauliflower)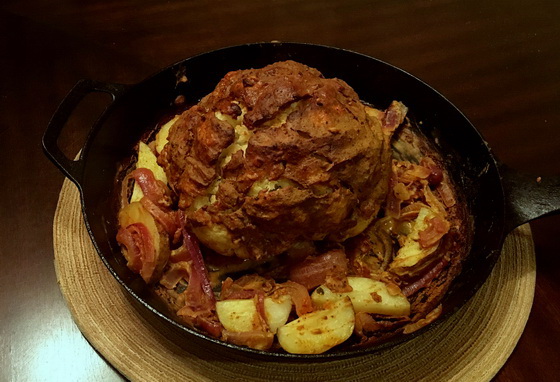 Happy thanksgiving everyone, I am sharing my Tandoori Gobhi recipe which makes a excellent centre piece for thanksgiving dinner. All my vegetarian friends this one for you 🙂
Cauliflower is by far the most cooked vegetable in our house. I roast it, steam it, fry it, mash it, pickle it, and even it eat it raw. I pretty much buy a cauliflower on every grocery store trip. There are so many different ways to eat cauliflower, it's a super versatile vegetable. But of all the ways to cook it, I think whole roasting it is by far the most visually stunning way to cook a cauliflower.Bringing the whole cauliflower to the table on a pretty platter makes for an amazing centerpiece to a vegetarian meal. I especially love to slice into the cauliflower and see the creamy white inside in contrast to the crispy yellow exterior.
Alternately you can cut the cauliflower florets and make it too. Tandoori gobi or you can say barbecued cauliflower is an excellent snack or starter recipe. you can use it either way dry or with gravy ..choice is all yours !!! same marination you can use for any vegetable like Tandoori aloo, Tandoori paneer , Tandoori  mushroom etc. etc.. just tickle your taste buds and enjoy …
Tandoori Gobhi ( Whole baked Cauliflower)
Ingredients
1 Whole head of Cauliflower
1 large Onions ( Sliced thinly)
2 large -Potatoes
Oil - 3 tablespoons
1 cup -Hung Dahi( yogurt)
2-3 green chillis
1 tsp Chaat masala
2 tsp red chilli powder(adjust to taste)
1 tsp garam masala
1 tb.sp kasuri methi
1 tsp cumin powder
1½ tablespoon besan ( chickpea flour)
juice of 1 lime(about 1 tb.sp.)
salt or to taste
Instructions
Wash the cauliflower and remove the stem and leaves, while keeping the flower whole.
Fill a large pot (big enough for the cauliflower) halfway with water and bring it to a boil. Once the water starts boiling, carefully place the cauliflower and blanch for 5 minutes each side. Strain and let the cauliflower cool down a bit.
In pan dry roast besan on low flame, until you can smell the nutty flavor
Tightly tie the cloth all the water from yogurt comes out and you are left with nice thick creamy yogurt.
Mix together curds, a tablespoon of oil, chili powders, turmeric powder, cumin powder, garam masala powder, chaat masala powder, kasuri methi, roasted besan (chick peas flour) and salt till blended.
Once the cauliflower is cool, rub the curds mixture all over the cauliflower,
Brush oil all over roasting pan or cast iron pan and layer potatoes and onions. Let it sit for 10 minutes.
Pre-heat oven to 350
Place the cauliflower in the skillet along with onions and potatoes and brush with oil.
Bake for 20 -25 minutes till the top is golden brown and the cauliflower is cooked through. (Half way through, brush once more with oil)
Squeeze lime juice and sprinkle coriander leaves on top. Serve immediately.