Punjabi Kadhi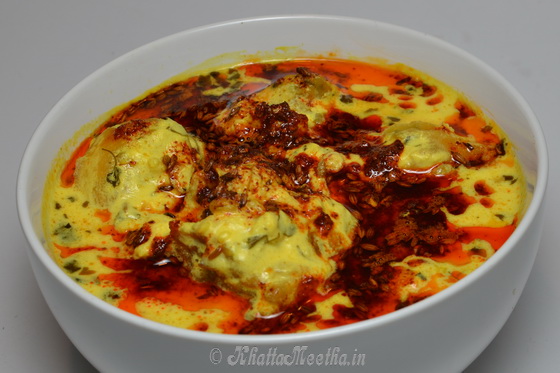 Punjabi Kadhi is a spiced up yogurt based curry like dish is a staple among the punjabi's and a delicacy with the rest of the world. Try this tangy and delicious recipe for Punjabi Kadhi. Kadhi Chawal (rice) is a street food in most of part of Delhi and Punjab.
In Northern India, pakodas(dumplings) are added to the chickpea gravy and sour yogurt is added to add flavour to it. While is some parts of India kadhi is made with buttermilk as it gives a more smooth texture, in others it is made with sour yogurt. My recipe has evolved over the years, however my cooking still very much influenced by my mom cooking, only difference being that I like to add chopped spinach to the pakoras. Punjabi Kadhi can be enjoyed with plain white rice or chapati.
Note :
You can make the Pakoras (dumplings) before hand and freeze it. Just thaw for few minutes before use.
Also it is very important to whisk besan really good, you can use hand or electric mixer.
You can also make kadhi without pakoras/ dumplings, this version very popular in Rajasthan called "khatta"
Soaking Pakoras in water for few minutes makes them really soft.
Pujabi Kadhi
Ingredients
For Pakora
1 cup Besan (Chick Pea Flour)
1 teaspoon salt
Oil, For frying
FOR KADHI
2 cups Yogurt,can be substituted with sour buttermilk
½ teaspoon red chilli powder
½ teaspoon tumeric powder
¼ teaspoon Asafoetida
1 teaspoon tumeric powder
2 teaspoon Panch phodan (mix of methi,jeera, sauf, mustard seeds)
1 tablespoon Kasuri Methi
1 tablespoon Oil
FOR Additional TADKA (tempering)
2 teaspoon Ghee/ oil
1 teaspoon cumin seeds
1 teaspoon Red Chilli Powder, pref kashimi mirch
1 pinch Asafoetida/ hing, optional
Instructions
Heat 2 teaspoon oil in a deep pan, add panch phodan, chopped onions and saute it for few mins
once the onions and stir it till it starts to get translucent
In a bowl take one tablespoon besan and mix it with water
Add 2 cups of yogurt and whisk is nicely making sure its completely is mixed up
Add tumeric, kasoori methi and red chilli powder to the onions and oanch phodan in pan,
add the yogurt and besan mixture to the pan and stir it
next add bowl of water to the pan and salt and let it simmer
now that kadhi is simmer in low heat, lets make pakoras, take 1/12 cups of besan
add ¼ cup of water,
add more if needed, and whisk it together, consisency should be of thick mixture not runny
Take a small pan and heat oil for frying
add salt to the pakoras mixture and start dropping small balls to the hot oil
take a sauce pan warm water to put fried dumplings in this helps keep the pakoras soft
once the pakoras get the brown color drain it out of oil and drop it in warm water
let the pakoras rest in warm water for 20 mins
drain all the extra water from the pakoras and add to the kadhi which is nicely cooked by now
Cook it for few more minutes
next take one teaspoon of oil, add jeera, hing and red chilli powder on top of the kadhi before serving