Paneer Tikka Masala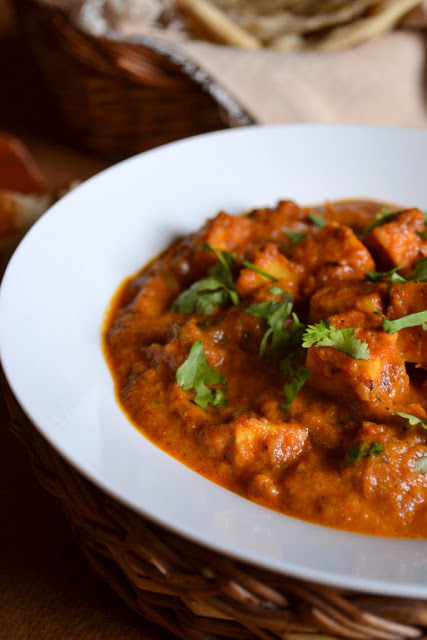 Paneer Tikka Masala, a marinated paneer cubes grilled to perfection and then cooked in creamy and spicy gravy, is delicious in every bite. The burnt taste of paneer marinated in curd and spices gives it a delighting flavor. It is a paneer tikka prepared with delicious spicy gravy. In my house only half of the paneer  grilled makes it to the pan for curry, its so tasty that  This recipe has two different stages; 1) prepare tikka and 2) prepare gravy and describes how to make tikka on gas stove and on grill also .
Paneer Tikka masala is often confused with Paneer butter masala, I would say they are close cousins, as their basic ingredients being same however in tikka masala the paneer is marinated and  grilled which gives it a smokiness and adds to layers of flavors. Personally I love Paneer tikka masala among all the paneer curries.  This paneer gravy dish that pairs great with roti, naan, kulcha or jeera rice or plain biryani.
Paneer Tikka Masala
Ingredients
For Tikka:Marinade
400 grams Paneer (Cottage Cheese), cut into retangular pieces
¼ cup Hung Curd or Thick Curd
½ tablespoon Jeera Powder
1 teaspoon Red Chili Powder
1 tablespoon Kasuri Methi (dried fenugreek leaves)
½ teaspoon Chat Masala Powder
½ teaspoon Black salt
Oil as required
Salt to taste
For Gravy:
1-inch long small piece of Cinnamon
8-10 Cashew-nuts
1 large Onion, chopped
4-5 cloves of garlic chopped
11/2 inch of ginger chopped
2 Tomatoes, boiled and pureed
½ teaspoon Red Chili Powder
11/2 teaspoon cumin powder
1 teaspoon of garam masala
¼ cup Heavy whipping Cream
1 tablespoons Oil or Butter
Salt to taste
1 cup Water
finely chopped Cilantro , for garnishing
Instructions
Get all the ingredients for the marinade together
Whisk all the spices with hung yogurt
Coat the marinade with the paneer cubes and keep it aside for 30-45 mins
Heat the griddle or portable grill and spray with cooking oil,
Place the marinated on the griddle and cook for 6-8 mins each side
Make sure paneer gets nice grill marks on the paneer, turn and cook the other side
Heat 1 teaspoon of oil in the pan add chopped onions, minced garlic and grated ginger.
saute it for 3-4 mins, cook until it starts to get translucent , take the onion mix and puree it in the blender.
Heat in 1 tablespoon of oil and cinnamon stick and let in crackle
Add the pureed onion mix and cook for 2-3 more minutes
next add11/2 cumin powder, ½ teaspoon of red chilli powder and 1 teaspoon of garam masala to the onion mix and stir, add lil water for the spices to mix properly
Add tomato and cashew puree and stir 2-3 mins and ¼ cup of water.
Finally add whipping and bring it to boil, and add paneer to the masala and toss it with spatula for the masala to coat the paneer.
Garnish with cilantro and serve to Naan or Rice
Enjoy!