Lehsuni Paneer / Tofu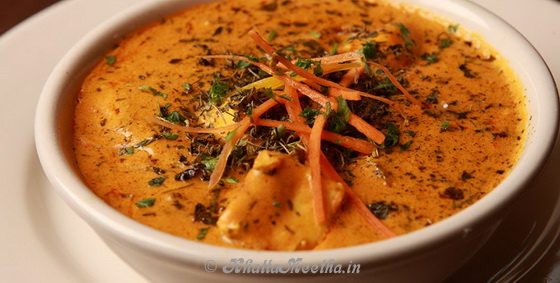 Today I am bringing to you Lehsuni Paneer recipe, recently someone mention garlic paneer, and since I love garlic flavor decided to give this a try . This recipe is little different as it has the same rich taste with half the calorie in the traditional paneer recipe. For me cooking on a daily basis is more challenging. You need to come up with something exciting, something different but at the same time it cannot be too rich, both in terms of ingredients and price. Don't you think so? Anyways, Here's a new recipe which you can make on a regular basis for lunch or dinner. Lehsuni Paneer is by far one of the best curries I have ever had! It is super easy to make and is healthy too. With coconut milk creating a creamy yet light texture, so you can enjoy it guilt free. I promise, is better than that you would get at any top-notch Indian restaurant. Paneer is something that I store in my freezer all the time. Just like eggs, it's my last resort. My boys love methi chicken, and since they like the taste of Methi (fenugreek) though of trying the lighter version of paneer methi. 
NOTE : You can use tofu for this recipe too it takes really good too.
Also the onion, garlic and ginger mixture can be pre-made and can be used for diff curries. (trust me its a life saver sometimes)
Lahsuni Paneer / Tofu
Ingredients
400 grams/ 14 oz paneer ( cottage cheese) or (Tofu)
1 cup coconut milk
8-10 large cloves of garlic(adjust to your taste)
1 medium sized onion (chopped)
1 small tomato
¼ cup fresh/frozen/ Kasoori methi leaves (fenugreek)
2-3 green chili
Salt to taste
½ teaspoon garam masala
¼ teaspoon turmeric
2 tablespoon oil
Instructions
Heat a tbsp of oil in a pan. Place the cottage cheese cubes and let them roast till golden on atleast 2 sides. Once, done, set them aside.
Next add chopped garlic (10 cloves) and chopped onions. Sauté them until they lose raw smell and onions turn translucent,add the tomatoes, green chilies,Blend the sautéed mixture using minimum amount of water if required
Add another tbsp of oil in the pan. Add bay leaves, cinnamon sticks
Add the pureed mixture and salt. Cook for a min.
Add turmeric, chilli powder and garam masala cook for 2-3 minutes
Add methi
cook for 1-2 minutes
Add 1 cup coconut milk and mix well.
Add the golden cheese cubes and let them simmer in the curry for a min.
Turn the heat off. adjust the coconut milk according to your liking