Chicken Jalfrezi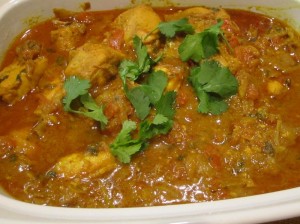 Jalfrezi, or jhal frezi, means dry fry and as such this deliciously hot dish does not have much of a gravy. Instead the thick sauce tantalisingly clings to spicy chunks of chicken and pepper.You can adjust the spice level according to your liking.This recipe for all of you who are bored of the regular chicken curries,  I found this one that looked authentic and doable.
Ingredients
2 tablespoons vegetable oil
1 onion chopped
2 cloves garlic chopped
1 1/2 pounds boneless skinless chicken
3teaspoons ground turmeric
1 teaspoon chili powder
1 1/2 teaspoons salt
3 medium tomatoes diced
2.5 teaspoons ground cumin
3 teaspoons ground coriander
2 tablespoons grated fresh ginger root
1/2 cup chopped cilantro leaves
Cooking Directions
Heat the oil and add onions and garlic, and cook for about 2 minutes.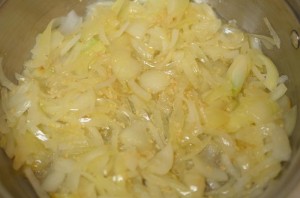 Add the chicken, and season with turmeric, chili powder and salt.Cook the chicken till it is slightly browned at edges.
Add tomatoes and cover the pan, and simmer over medium heat for 20 minutes. Uncover, and simmer for another 10 minutes to let the excess liquid evaporate.

Add the cumin, ground coriander, ginger and cilantro, and simmer for another 5 to 7 minutes.
Serve it hot with rice or naan and Enjoy !!!