Chicken Biryani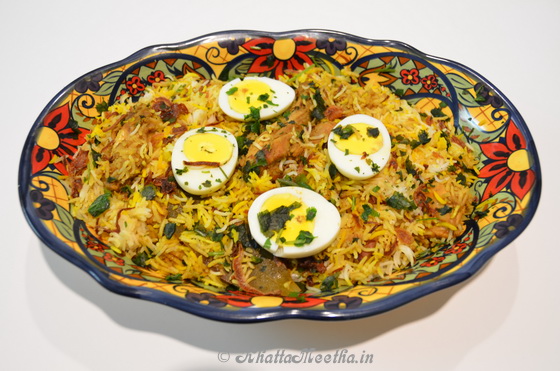 Chicken Biryani is a flavorful rice dish made with fragrant Basmati rice. I prepared this biryani a tons of times, the recipe is perfect and has never failed me. Once you try this step-by-step version, you will be surprised how easy it is. [ You can also dum (steam) the biryani in rice cooker, replace the last step in cooker]
It's fantastic with a cucumber raita , cooling off the heat while adding a fresh zing that brightens all the spices in the dish.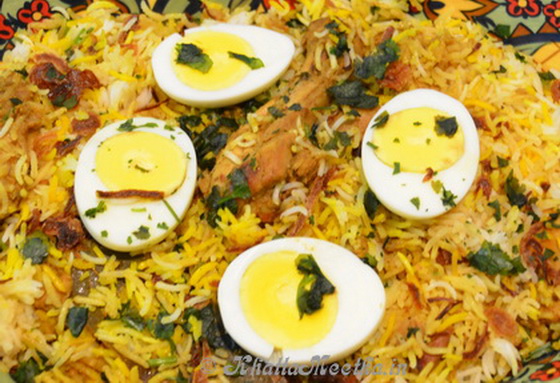 Chicken Biryani Recipe
By Richa Published: April 8, 2012
Yield:

6 Servings

Prep:

1 hr 30 mins

Cook:

60 mins

Ready In:

2 hrs 30 mins
Chicken Biryani is a flavorful rice dish made with fragrant Basmati rice. I prepared this biryani a tons of times, the recipe …
Ingredients
Instructions
Marinade chicken with2 tablespoon of lemon juice, salt, turmeric and chilli powder cover and refrigerate for 1 1/2 hour.

Heat oil in pan and add bay leaves, whole Garam Masala [cinnamon stcks, cardamom, cloves shad jeera(black cumin)], and let it splutter for 2 mins.

Add onion saute it for few minutes till it satrts to brow, add garlic, ginger, and all dry spices and saute it till the oil starts seperating from the spices.

When the masala is done add chicken and mix it well, add yogurt simmer and cook till the chicken is done.

Add the saffron to the luke warm milk and combine well. Keep aside [ I just has couple of strands of saffron so mixed yellow food color]

Cook rice in 12 cups of water, when the rice is half cooked drain the extra water in strainer and keep aside.

take a bowl of rice and mix it with safron milk and keep aside.

Take a wide deep vessel to cook the biryani in oven. Spread half of the rice and layer it with chicken then add rest of the rice. Pour the saffron rice over the top of white rice.

Garnish it with fried onions and tablespoon of lemon juice.

Cover the vessel with aluminium foil and cook in oven at 300 F for 25 mins. Garnish it with boiled eggs and cilantro and enjoy !