Date Chutney (sauce)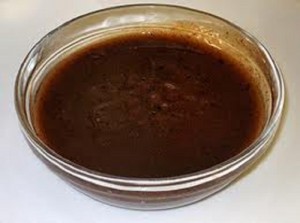 Date chutney  is  a sweet and sour chutney made with dates and tamarind paste. This chutney goes very well with Indain snacks, specially Samosas ans Cutlets.
Ingredients
8 oz pitted  dates
1/4 teaspoon red chili powder
1/2 teaspoon salt
1/4 teaspoon cumin (roasted)
3 cup water
1/2 teaspoon tamarind paste
Cooking Direction
Place dates in a medium saucepan and cover with water. Cook until soft and tender, 15- 20 mins. Set cooked dates aside to cool.
Puree dates, tamarind paste, roasted cumin,salt, red chilli powder  in a food processor or blender, adding a little water  to make a smooth paste.
Enjoy
Note : You can store this chutney in refigerator easily for 2-4 months.