Kheer (Rice pudding)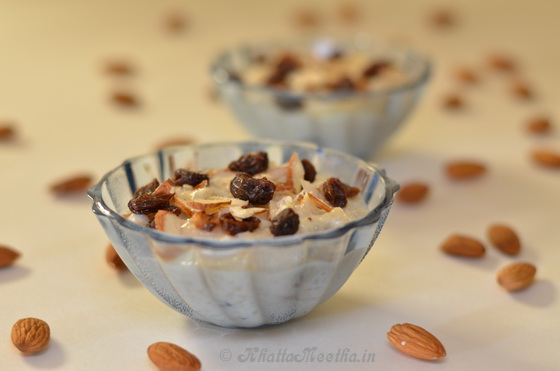 Kheer, an Indian Rice Pudding is made with milk, flavored with cardamom and rose water, and topped with almonds. Kheer  (rice pudding) is a must have of all Indian festivals. It's a great dessert for anytime of the year. In south and east India versions of it are made for certain festivals. In the South, Kheer is called Payasam and in the east it is known as Payesh.
So no matter where you are from you would definitely enjoy, this easy to prepare and sumptuous recipe.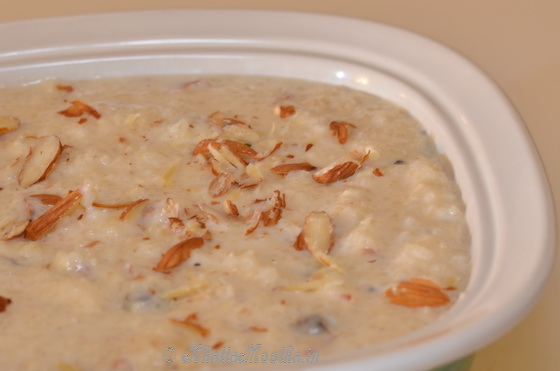 Kheer (Rice pudding) Recipe
By Richa Published: May 28, 2012
Kheer, an Indian Rice Pudding is made with milk, flavored with cardamom and rose water, and topped with almonds. Kheer …
Ingredients
Instructions
Heat the pan add ghee and add rice and cardamom and saute for couple of mins

Add milk and reduce the flames to simmer, keep stirring it every few minutes. Cook the pudding in the lowest setting till the milk starts to thicken upto 60 minutes.

Add sugar, rose water and nuts and simmer for 30 Keep stirring every 5- 10 minutes. Pudding tends to stick at the bottom after adding sugar.

when the pudding thickens to a desired consistency. Serve it hot or cold as per liking. Enjoy