Gulab Jamun (milk balls)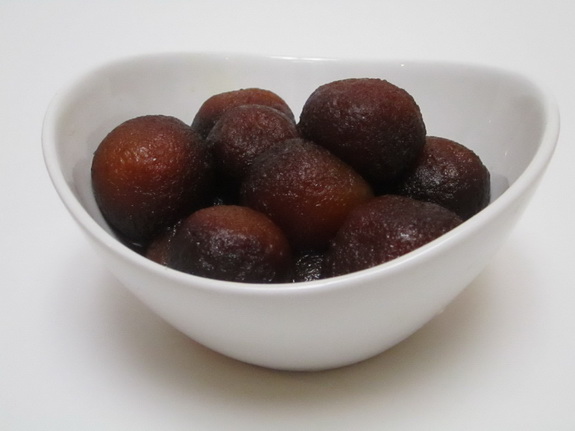 Gulab Jamun is very famous Indian dessert, milk balls are dipped in sugar syrup. Simple & Easy Indian specialty can be served hot or cold. Warm Gulab Jamun and vanilla ice cream is also one of very famous combination.
Ingredients:
2 cup Carnation Milk Powder
1 cup Bisquick (pancake mix)/ All-purpose flour
1 teaspoon baking soda
3 tablespoons butter -melted
Whole milk (for making the dough)
For the Sugar Syrup
4 cups Sugar
2 cups water
2 tablespoon Rose water
Oil for frying
(Makes 50 Gulab Jamuns)
Cooking Directions
Make the dough by combining the milk powder, Bisquick, butter. Add just enough whole milk to make medium-hard dough.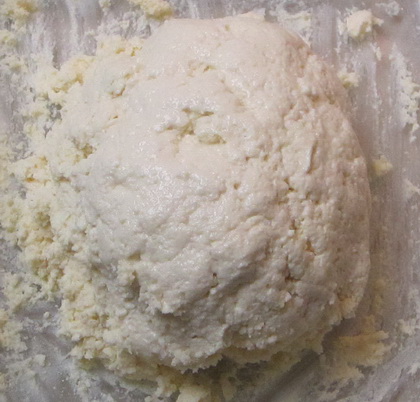 Make balls by gently rolling each portion between your palms into a smooth ball. Place the balls on a plate. Cover with a damp yet dry kitchen towel.
Heat the oil on high and then lower the heat to medium. Slip in the balls into the hot oil from the side of the pan, one by one. , gently shake the pan to keep the balls from browning on just one side.
 The Gulab Jamuns should rise slowly to the top if the temperature is just right.Keep turning slowly so that  it browns from all side.The balls must be fried very slowly under medium temperatures. This will ensure complete cooking from inside and even browning.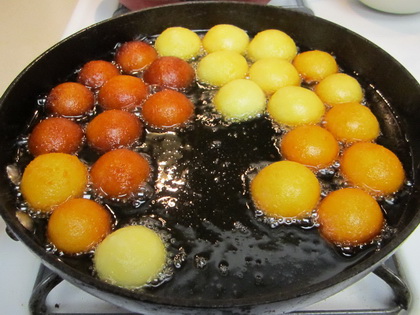 Sugar Syrup
The syrup can be made before hand and kept warm. For sugar syrup add mix the 4 cups of sugar to 2 cup of water. Add 4-5 cardamom pods and Rose water. Mix with a spoon and then heat at medium heat for 5-10 minutes until sugar is all dissolved in water.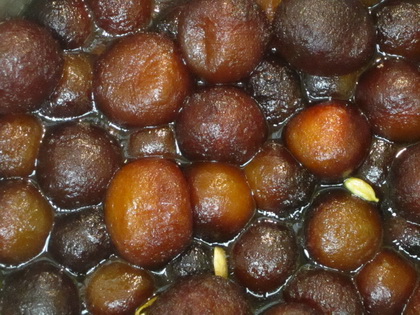 Transfer this hot syrup into a serving dish. Keep warm on stove. Add the fried Gulab jamuns directly into the warm syrup. Leave gulab jamun balls in sugar syrup overnight for best results.