Gajar ka Halwa (Carrot pudding)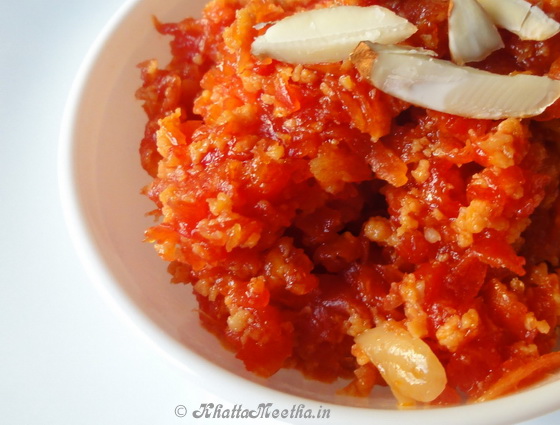 Gajar ka halwa is probably one of India's most popular traditional desserts that is adorned by everyone. Gajar halwa is a delicious dessert preparation made with grated carrots, milk, sugar and dry fruits. Gajar is a hindi word for carrot. There are may different ways to make this mouth watering delicacy. One of my most pleasant memories attached with winters in India is a bowl of piping hot Gajar Ka Halwa. As we sat cuddled in our quilts, the hot sugary delight was our perfect companion. Gajar halwa is served in almost all restaurants in Delhi during winter.

Gajar ka Halwa
Ingredients
2 lbs(1kg) of Carrots ( peeled and grated)
½ gallon (2 litres) of milk
2 teaspoon of cardamom powder
1 cup chopped cashews and raisins
4 tablespoon of Ricota cheese
Instructions
Wash carrots and peel them, grate them either in food possessor of hand grater
Heat 1 tablespoon of ghee in a pressure cooker;
add the carrots and sauté on a medium flame for few minutes, while stirring continuously.I like to dry all the juice from carrot to dry before adding milk
Add 11/2 litre of milk, and cook of in simmer, stirring it every few minutes, the reason I use he pressure cooker to cook my kheer and halwas is that the thick bottom helps prevent burning.
when you see that the milk is staring to reduce, add the sugar, mix well and cook on a high flame for 5 to 7 minutes, while stirring continuously.
Add ricota cheese( khoya) mix well and cook for more 10 minutes, so that the khoya melts completely keep stirring.
Add the raisins, cashews and cardamom powder and cook for another 4-5 minutes.
Serve hot or warm.