Chicken Kofta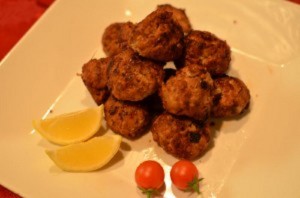 Koftas can be made with any meat, but the chicken kofta is my personal favorite only because its leaner meat and I can eat it guilt free without worrying about calories. Koftas can be served as appetizers with clantro and mint chutney (dip), or in main dish with basmati rice, yogurt and lemon.
Ingredients
750g chicken mince
1 onion, coarsely grated
1 egg, lightly beaten
1 long green chilli, seeds removed, finely chopped
1 tsp garam masala
2 tbs chopped coriander leaves, plus extra to garnish
1 tbs minced garlic
1 tbs freshly grated ginger
1 tbs olive oil
1 tbs lemon juice
Cooking Directions 
Mix all ingredients together in a bowl, then shape into small  balls and put them in plate and cover and refrigerate for 1 hr. Heat a large skillet over medium heat and add canola oil.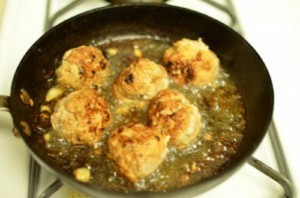 When the oil shimmers, transfer meatballs to skillet and brown on each side for about 3 minutes. Reduce heat to low and continue cooking for 5 minutes or until meatballs are fully done.
Serve it hot with basmati rice, salad and yogurt dip.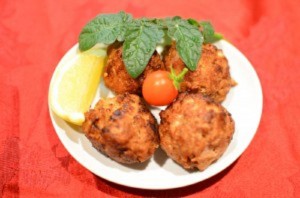 Note : You can make the koftas and freeze it for few day. Just take them out and thaw them in microwave and they are good to go.