Oven Roasted Brussels Sprouts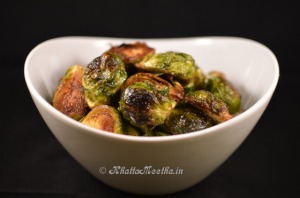 2 lbs brussels sprouts (cut in halfs)
4 tablespoons olive oil (I have used garlic infused one)
Salt as per taste
1 tablespoon Powdered Black Pepper (adjust to taste)
2 tablespoon garlic powder(optional)
Preheat oven to 400°F.
Cut the Brussels sprouts in halfs
Toss Brussels sprouts generously with olive oil,
salt and pepper on a rimmed baking sheet and roast,
stirring once or twice, until deep golden brown, crisp outside and tender inside, 30 to 35 minutes.
The leaves that are loose will be especially brown and crispy.
Transfer to a bowl and serve.
Recipe by
Khatta Meetha
at http://khattameetha.com/appetizer/oven-roasted-brussels-sprouts