Chicken 65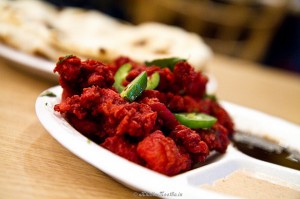 For the marinade:
Cleaned Boneless Chicken - ½ kg (cut in small pieces pieces)
Ginger Garlic Paste - 2 tsp
Coriander Powder - 2 tsp
Red Chili Powder - 3 tsp
Cumin Powder - ¼ tsp
Corn Flour - 2 tsp
Rice Flour - ¾ tsp (optional)
Red Food Color - ¼ tsp
Lemon Juice - 1 tbsp
Egg - 1
Salt - to taste
Alternately
use Shan's Chicken sheekh kabab masala,
2 tablespoon yogurt
3 teaspoon ginger-garlic paste
red food color
pinch of salt
Marinade chicken with all the ingredients and refrigerate for 1-2 hour. or (yogurt, garlic- ginger paste and Shan's chicken tikka seekh kabab masala)
Take a deep pan and in 1 tablespoon of oil cook the the marinated chicken for 15-20 minutes, this helps to cook the chicken and reduces the use of oil too.
In saute pan add 4 tablespoon of oil and add jalapenos slices, once they start to change color add chicken and simmer.
let it cook for few minutes until the chicken starts to get crispier outside.
Garnish with onions and lemon and serve hot !!