Paneer/ chicken Pesto Panini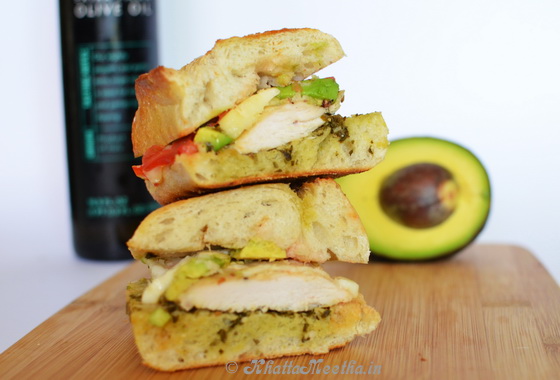 2 pieces of Artisan bread
1 Avacado, cut in slices
1 whole Tomato, cut in slices
½ cup pesto, homemade or store bought
1 cup mozarella cheese
1 tablespoon olive oil
Grilled tofu/ Chicken/ Paneer (Indian cottage cheese), you can use any filling you like
Heat olive oil in a grill pan over medium-high heat.
Spread 2 TBSP pesto over 1 side of French bread and top with mozzarella, chicken/tofu/paneer, tomatoes, avocado and top half of bread; repeat with remaining slices of bread.
Brush with extra Virgin olive oil, and press between the hot plates of a panini grill until the bread is golden and the cheese is melted, about 2-3 minutes per side.
Enjoy !!!!
Recipe by
Khatta Meetha
at http://khattameetha.com/breakfast/paneer-chicken-pesto-panini